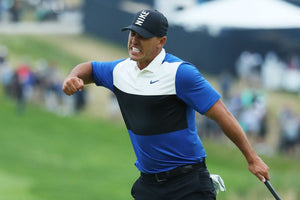 Wire to Wire
Wire to Wire
Imagine holding the lead of a tournament from the time you made the turn to the back 9…on Thursday.  Imagine sleeping with the stress of holding a lead for three straight nights.  Imagine the thoughts that would drift into your mind about wayward tee shots and four foot missed putts.  The spotlight interviews would be bright enough to blind any competitor without the proper tunnel vision.
Consider this, the PGA tour sanctions 46 full field events each year, 4 of them being Major Championships.  Over the last 10 years that amounts to 460 events, each with approximately 130 players.  59,800 opportunities to lead and win wire to wire.  21 total PGA tour players have won wire to wire over the last decade.  4 of those 21 total wire to wire winners have done so in a Major:
McIlroy '11 U.S Open
Kaymer '14 U.S Open
McIlroy '14 Open Championship
Spieth '15 Masters
All those numbers changed when Brooks Koepka went wire to wire to win the 2019 PGA Champhionship at Bethpage Black.
We now have 5 men on the greatest golf tour in the world who have led a Major tournament for four straight days.  You might have better odds winning the lotto.  There is a .0083% chance of this occurring.  Ror's has done it twice so maybe it shouldn't come as much of a surprise when Brooks held on yesterday to win.  In this day and age of social media and 24/7 news cycle coverage it is impossible to not know your position in a tournament, and to not know what media analysts (ahem Brandel Chamblee) would be saying about you.  Brooks, in the cauldron of the Black Course, rampant with hollering New Yawkers, withstood the fire and the pressure of his Bash Brother D.J and came through unscathed, tunnel vision in tact.
A lot of people over the weekend told me they wouldn't be watching the weekend because it would be a runaway.  I told them to sit down and not worry about any drama that may or may not unfold.  I told them to sit and watch the coronation of a king.  For those that did tune in, Sunday, for a few holes (12-17 at least) provided more drama then the rest of the tournament.  The fatigue of the week and the wire to wire lead seemed to catch up to Brooks until Bethpage showed its teeth and chewed up DJ, his nearest contender.  A 3 putt bogey on 17 did little to quell the rising of emotion that would ensue with Brooks' par and clinching putt on 18.
Heavy is the head that wears the crown, except when it's on the shoulders of a man set to carry the golf world on his back.
Is there any shirt more ready made for the King of the PGA Tour?
Check out my podcast Leave the Pin In on iTunes or wherever you listen to podcasts.
https://itunes.apple.com/us/podcast/leave-the-pin-in/id1456658006
Follow us on Instagram at @SwingJuice and @LeavethePin
---