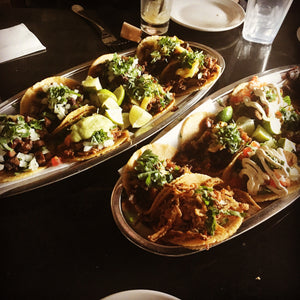 Taco Tuesday - La Vaca Margarita Bar
I know Chicago isn't California or Mexico, but hot damn, if you want some good tacos you should come here. We dropped down to the Pilsen neighborhood with some buddies last week to a joint called La Vaca. Unbeknownst to me, it's a 21+ joint so I don't think you can bring the family, but if everyone is of age, go there immediately. We started out with their fish Ceviche, but our waitress told us we should have gone with the shrimp...fair enough, we'll grab that next time, because the fish was delicious. Then came the tacos. They have something around two million different taco options which becomes overwhelming as you're staring down the menu, but they're all amazing. All tacos are served family style (as pictured) and it's tough to not stab a reaching hand with a fork to steal their taco allotment.
Pro tip: the Al Pastor is their best taco.
It‰Ûªs marinated grilled pork, pineapple, cebolla, and cilantro. Yep, pure magic. ...and as always, you can buy the best shirt on Swing Juice
HERE
.
---