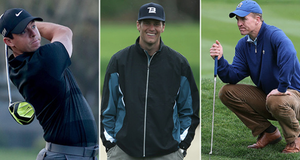 So this Major golf star walks into a gym...
As it's been well chronicled, Tom Brady and Rory McIlroy played a practice round last week at Augusta National. What was not known and as we just found out yesterday is that The Manning brothers, Peyton and Eli, not only joined them
but the foursome also had a workout at the gym at Augusta National as well
(how nice must that gym be at Augusta National??). I wonder who was listening more intently, Rory on workout secrets or Tom, Peyton and Eli on golf tips?? Oh to be a fly on the wall that day.
---