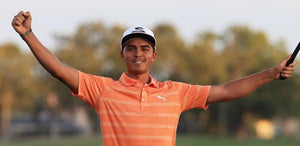 Rickie Fowler Wins the 2017 Honda Classic
I love Rickie Fowler, I love his style, I love his character, I love his demeanor, I love the clubs he plays, and I love when he wins. I'm not ashamed to admit it. Richard (as a few of my friends and I call him...I'm pretty sure no one else does. He's a true birth certificate "Rickie".) has reached the winner's circle on the PGA Tour four times now with his most notable win coming at the 2015 The Players at Sawgrass. Fowler went into Sunday at the Honda Classic at PGA National with a four shot lead and finished with the same margin even though his lead was cut down to a single shot at one point. While Rick's final round 71 wasn't pretty, a win is a win and he more than got the job done. But don't worry, kids, Johnny Miller was up to his usual tricks. Miller said on TV "‰ÛÏObviously a win is a win, but you‰Ûªve got to learn to finish out Sundays like a true champion...He hasn‰Ûªt learned how to do that yet.‰Û Ok, Johnny, you're a legend, we get it. I thought Johnny was getting better about this kind of stuff, but he's ridiculous and it's annoying. Whatever though, I don't really care. Rickie handled it like a champ. When informed of Miller's comments, this was Rickie's response:
‰ÛÏWell, I started with a four-shot lead and I still won by four,‰Û Fowler said. ‰ÛÏI didn‰Ûªt play great. It wasn‰Ûªt a pretty round. But we got the job done. A win‰Ûªs a win.‰Û
You're a legend, Rick. You keep doing you.
---