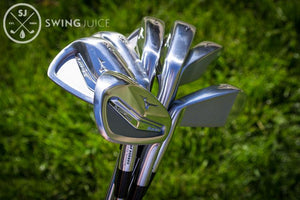 Review: Mizuno MP-25 Irons
Mizuno MP-25 Irons
When "another major manufacturer" got out of the equipment game in 2017, a lot of big time professional players became equipment free agents. This meant they had the freedom to put any clubs they wanted in their bags. As it turns out, a lot more Mizuno started popping up and a lot of these guys were playing the MP-25 irons. These irons are designed to have amazing feel with Tour-caliber looks and performance while increasing forgiveness and distances.
The Highlights:
Grain Flow Forged 1025 Boron - 30% stronger material for added distance
Micro Slot Technology (3 - 6) - increases forgiveness and distance
Solid 1025 Boron Muscle Design (7 ‰ÛÒ PW) - enhanced feel for shotmaking
Find the Mizuno MP-25 Irons HERE.
The Vibe:
I've always been partial to Mizuno irons from an appearance standpoint and they've always been regarded as some of the best feeling irons in the game. When you have that reputation it's difficult to make any major changes because you have to live up to those high expectations. Mizuno definitely met those expectations with the MP-25. The feel is soft with a ton of feedback on every shot. The longer irons have more life to them and have a definite feel of forgiveness, and the short irons have a more traditional "forged feel". I've always felt one of Mizuno's trademark qualities is the way their irons look. Like the MP-25, they always look classic and simple without trying too hard. In an era where everyone is trying to get noticed through flash, Mizuno continues to stay classic with irons like the MP-25. Additionally, as more of a player's club, the MP-25 has medium-to-thin toplines with similar width soles, a compact head from heel to toe, and minimal offset.
On Course:
If we're being honest, there's nothing overly revolutionary from a performance standpoint with the Mizuno MP-25's. What makes them great is that they have the exceptional feel mentioned earlier and are just a solid overall performing iron for a good ballstriker. The Micro Slot tech in the longer irons definitely makes them easier to hit and gives you a few extra yards which is always a nice advantage to have in the bag. The shorter irons are like weapons. The feel is so good and they're just so easy to manipulate your shots with. I think the biggest on-course gain with the MP-25 is that they give you a ton of confidence which in turns leads to better shots and maybe a little extra creativity.
The Verdict:
No, the Mizuno MP-25's aren't revolutionizing anything in the golf industry, but that's ok. They are a great overall iron with exceptional feel that a strong iron player is going to be able to find success with. Having the confidence to hit a good shot with any club in your bag is one of the biggest keys to the game and I believe the MP-25 has what it takes to do that. My Verdict: Great feel, easy to hit for a stronger player. One of the best irons in the blade category. Simplicity at its finest. [carousel]
---