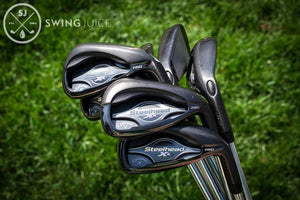 Review: Callaway Steelhead XR Pro Irons
Callaway Steelhead XR Pro Irons
Callaway's Steelhead XR Pro irons are a more compact version of the forgiving Steelhead XR irons that preceded them. They keep a lot of the same characteristics while implementing thinner toplines and soles along with a slick black PVD finish. These irons will be a nice middle ground for players looking for the benefits of a game improvement iron and the performance and look of a more compact head.
The Highlights:
Next-generation 360 Face Cup‰ increases ball speed and forgiveness
Steel-Infused Polyurethane Layer behind face improves feel and lowers Center of Gravity for consistent launch
Progressive CG throughout the set
More compact head shape
Black PVD finish
Stock True Temper XP 105 Stepless steel shafts. Upgrades are available.
Find the Callaway Steelhead XR Pro Irons
HERE
.
The Vibe:
Yes, the Steelhead XR Pro is a more compact head than the Steelhead XR, but it isn't exactly in the blade category yet. Size and shape-wise, the Steelhead XR Pro is a very nice middle ground for that player that isn't quite ready to be in a blade, but doesn't want to be in a game improvement iron. You would think in this day and age of the golf industry, this would be more common, but there really aren't many of these middle ground options out there. Fortunately for everyone, Callaway's offering is a really good one. The black finish is always cool, holds up ok but will wear with time, and makes these clubs seem a little slimmer. There's a lot of life in the face of these irons and they are very forgiving in your hands when you hit a bad shot. It also sounds like the Steelhead XR Pro has a little pop to it when you hit the ball which is fairly common with a thin face and urethane dampening materials used for shock absorption. The entire set has a little more of a 'clip' through the turf as opposed to the thump you'll usually find in a thicker-soled game improvement iron.
On Course:
Sometimes golf equipment just makes the game more fun for whatever reason it may be. These irons did exactly that. I don't think you're going to see a bunch of blade players in their prime make a leap to these irons, but if you're looking to hit easy, long, high, straight shots, then these Steelhead XR Pro irons are great. My feel with these irons was that I could play good Point A to Point B golf, which is extremely underappreciated by players at all skill levels these days. We have to commend Callaway on the thoughtfulness behind the engineering of the Steelhead XR Pro irons. Through their Progressive Center of Gravity positioning throughout the set, Callaway identified the needs of their players change with each section of their iron set. As such, Callaway placed the CG in the irons to have "long carry in the long-irons, great workability and control in the middle-irons, and lower and high-spinning shots in the short-irons. I found the biggest impact came in the long irons which were very easy to strike well with a high peak in the air and plenty of carry. I didn't find the short irons to flight particularly low, but they were very easy to control distances with and provided plenty of spin on the greens. Of course, you can manipulate all of this even more depending on the shaft you choose to pair with these heads.
The Verdict:
In short, I really enjoyed these irons. I think there are a lot of players out there with a wide range of skill sets that can enjoy the benefits of the Steelhead XR Pros and have a lot of on-course success. For all you golfers out there saying "I know I need a game improvement iron, but I need the looks of a player iron", well your prayers may have been answered. They look good, they feel good, and they're easy to play...anything wrong with that? Nope, not a damn thing. My Verdict: A great iron set for a wide range of golfers. Perfect option for players that don't fit a blade but don't want a beefy iron.
The Aftershow:
The Aftershow
is where we talk about aspects of the equipment that's of interest but didn't necessarily make the review. The Steelhead X name is a classic in Callaway history. In the early 2000's Callaway first introduced the Steelhead X iron lineup that quickly became one of the most popular lines in the Callaway catalog. Seeing the Steelhead XR and Pro are a fun throwback for gear nerds that have been around for a bit. I know you all remember those old Callaway Steelhead X irons and there was at least one set that you hit and loved.  Mine was the Steelhead X-20 Pro.  What a golf club! [carousel]
---