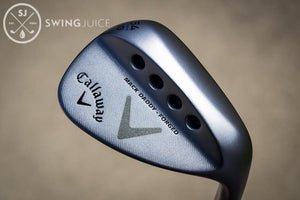 Review: Callaway Mack Daddy Forged Wedge
Callaway Mack Daddy Forged Wedge
Wedges are some of a professional golfer's greatest tools in the box. Their wedges can be the differences between literally thousands of dollars in their pocket every week on Tour. A pro golfer will use their wedges in a variety of different situations ranging from sticking an easy approach close through bailing themselves out of trouble in a tricky situation all in the name of lower scores. Knowing players depend on that kind of versatility, Roger Cleveland set out to make Callaway's first truly forged wedge in the Mack Daddy lineup based on input from the Callaway Tour staff.
The Highlights:
Signature Shaping and Tour Performance in a Forged Design
Crafted by Roger Cleveland in collaboration with Tour players
New 16-groove configuration incorporates an added groove near the leading edge - more spin
Forged of soft 1025c steel for great feel
Available in Chrome or Black Slate (raw) finishes
Shafted with True Temper Tour Issue x100 and Lamkin UTx grip
Find the Callaway Mack Daddy Forged wedges
HERE
.
The Vibe:
Callaway makes it clear that a great feel is a big priority with the Mack Daddy Forged wedges which is exactly why they went the forged route. For those that may not know, forged clubs are notorious for a more precise feel which is exactly what good wedge players are looking for in a scoring club. Moving to a forged design was a good choice by Callaway and it produced a great feeling wedge. From an appearance perspective, the Mack Daddy Forged wedges have that Tour look players of all skill levels are looking for. Our review features the Chrome finish which will be pretty rust proof and will last longer, but the other Black Slate finish should wear easily to expose the raw carbon steel beneath it. This too will enhance that Tour look by helping the wedge rust more like all the cool guys on Tour.
On Course:
Much of the Mack Daddy Forged wedge's success comes from the previously mentioned strong feel. This feel makes the wedge easy to control for the different types of shots you need to hit with it, whether it's a little bump and run from the apron, a low burning knock down from 100 yards, or that big balloon over trees from the next fairway over. Callaway's R grind is a crescent sole shape that gives the Mack Daddy Forged the versatility a strong wedge player demands. I'm sure people will be concerned with spin characteristics of these wedges. If you are a player that can put good wedge spin on the ball, you'll find the Mack Daddy Forged pretty easy to zip around as necessary. If you fall into the category where you struggle to get spin out of your wedges, this wedge won't be the magic bullet.
The Verdict:
I believe the Mack Daddy Forged wedge will hold its own with any other forged wedge in the game. Does that mean that everyone is a perfect candidate for it? Of course not, that's rarely the case in golf equipment. I think good wedge players that prefer the crescent sole will find these to be exceptional while players with other sole grind needs may need something with a little more forgiveness. My Verdict: these wedges have a great feel with tons of playability and will be great scoring tools when put in the right players' bags. A truly Tour-calibur wedge available to the masses. [carousel]
---