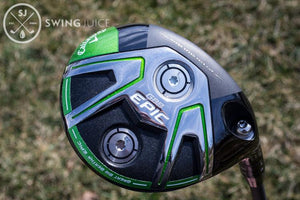 Review: Callaway Great Big Bertha Epic Sub Zero Fairway Wood
Callaway GBB Epic Sub Zero Fairway Wood
Coming into this season's equipment cycle I was just as excited for the Callaway Epic fairway woods as I was the drivers. Unfortunately the fairway woods don't have the Jailbreak in the heads which killed my buzz a bit, but I have to believe that Callaway still knows what they're doing so it will be ok. Is the Great Big Bertha Epic Sub Zero fairway wood as good as the driver? Let's find out.
The Highlights:
Incredibly light and strong triaxial carbon crown -- 78% lighter than a steel crown
Fourth generation Hyper Speed Face Cup promotes faster speed across more of the face
Aero-elliptical head shape to improve airflow for faster swing speed and distance without extra effort
Two interchangeable weights in the head (3g and 22g) to adjust spin-rate and launch angle
Stock shafts: Fujikura Pro Green and Aldila Rogue Max
Find the Callaway Great Big Bertha Epic Sub Zero
HERE
.
The Vibe:
Following suit of its driver big brother, the Callaway Great Big Bertha Epic Sub Zero fairway wood has the same black/green/white/silver color scheme with a compact pear shaped black carbon fiber head. The accessories and components all match with the same color scheme, with my personal highlight being the custom Golf Pride New Decade Multi-Compound grip. Maybe I can find a way to trick Callaway into sending me a whole set of those! I mentioned in The Highlights that the Sub Zero fairway wood has their fourth-gen Hyper Speed Cup Face which is supposed to improve the forgiveness of the club. It's hard to say how true that may ring, but I did feel like the club wasn't all that punishing. I rarely felt a shot that didn't feel like it came off the face pure. Trust me, that's not as much a testament to my game right now, but rather the club itself. All in all, the Epic Sub Zero fairway wood is a cool looking club that feels amazing.
On Course:
To be fair here, I had pretty high expectations coming into this review. I have been a large fan of Callaway fairway woods for quite awhile now (regardless of whether or not they were in my bag) and they only seem to get better. Callaway has put a ton of focus on making their clubs have "tour level performance" while also being forgiving and playable for players across a wide spectrum of talent. Between the two Epic fairway woods, I think the Sub Zero is going to favor the lower handicaps a bit more, but that doesn't mean they won't work for other players. In regards to my actual on-course performance, the Callaway GBB Epic Sub Zero was a great fairway wood with really easy distance. I found it easy to hit off the deck as well as the tee, but I had to muscle up a little from the rough. By all means, the Epic Sub Zero is plenty playable in the rough, but just be aware of it in the deep lies. The other area to note is adjustable weight system. The system is supposed to give the golfer lower launch and lower spin with the weight forward, and higher launch and spin with the weight back. When I adjusted the weights, my spin stayed about the same but my launch trajectory definitely changed as advertised. The Epic Sub Zero driver's spin was notably low, but I would put the Epic Sub Zero more in the "standard" spin range for a comparable player's fairway wood.
The Verdict:
As a self-proclaimed gear dork, I get excited about golf equipment every year, but I can't remember too many seasons where I've been as excited about as many different things as I am this year. Callaway's Epic Sub Zero fairway wood is totally worthy of all that excitement. I think I may even find the Epic Sub Zero fairway wood almost as exciting as the driver after spending some time getting to know it better. My Verdict: It's fun and easy to hit, it's long, and it looks sweet as hell. [carousel]
---