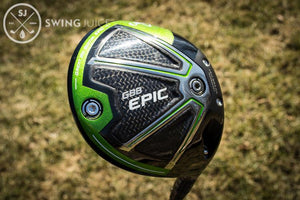 Review: Callaway Great Big Bertha Epic Sub Zero Driver
Callaway Great Big Bertha Epic Sub Zero
If you've been paying attention to golf at all this season, the Callaway Great Big Bertha Epic drivers have easily been the most hyped new gear of the year. I'd be lying to you if I told you I wasn't giddy as a schoolgirl to try these drivers out, but mostly to get my shot at the Great Big Bertha Epic Sub Zero driver which I thought would be a perfect fit for my swing.

The Highlights:
Innovative "Jailbreak" technology behind the face
Low-spinning Tour-level driver that‰Ûªs also incredibly forgiving
Exo-cage with an ultra-light triaxial carbon crown and sole aligning Center of Gravity (CG) with neutral axis
Two interchangeable weights in the head (2g and 12g) to adjust spin-rate and launch angle
Fast Head Speed from Industry-leading Aerodynamics
Available in 9¼ and 10.5¼
Wide range of stock shaft options
Find the Callaway Great Big Bertha Epic Sub Zero
HERE
.
The Vibe:
2017 has been shaping up to be quite a year for golf clubs, but I can't say anything else has caught my eye like the Callaway Great Big Bertha Epic drivers. My first trial was with the Epic Sub Zero and it was one hell of a first impression. Did someone say carbon fiber? Good, because who doesn't love carbon fiber? The visible carbon fiber on the head makes you feel like you're golfing with a club reminiscent of a super car you saw on Top Gear - the British one with Clarkson, not the other ones. The head shape is a nice looking moderate 460cc; not too bulbous and round, and not too deep of a face. The carbon fiber head materials with the Jailbreak bars behind the face give the Epic Sub Zero a muted yet powerful sound with an extremely lively and solid face. Man, it sure seems the common trend in driver sounds is moving away from loud metallic canon shots this season which is a welcome relief. I'm over my drivers sounding like someone threw a rock at a pontoon boat.
On Course:
The Epic Sub Zero is supposed to be forgiving, but it's also supposed to be high speed and low spin, which are two characteristics the pros crave (aka demand). According to Callaway, the Epic Sub Zero is supposed to be forgiving so it works for a wide range of players, but I'm not sure I see that. The Epic Zero is definitely high speed, low spinning, and a
SICK
driver, but from my experience, I think slower every-man swing speeds are going to have a hard time keeping the ball in the air with its lack of spin. Even with the stock shaft, I was hitting the Epic Sub Zero with around 1300-1500 rpm which is about 500 less than my usual numbers. Fortunately I have a higher swing speed with a positive angle of attack (take that,
Brandel
!), both of which seem to be good fits for the Epic Sub Zero driver. Even with the heavier weight in the back of the head the spin was still on the lower end with a moderately higher launch angle. No need to worry though, the regular Great Big Bertha Epic driver has the same structural benefits and is more friendly for the average golfer. I'll review that one at some point for you as well.
The Verdict:
Man, Callaway is going to be tough to beat this year (I look forward to the challenge). The Callaway Great Big Bertha Epic Sub Zero is a bomber for the players with enough swing speed, and those players will not struggle to control or manipulate their shots with this driver. The Verdict: the Epic Sub Zero is a seriously sick driver but I still suggest making sure you have the game to match.
The Aftershow:
The Aftershow
is where we talk about aspects of the equipment that‰Ûªs of interest but didn‰Ûªt necessarily make the review. I didn't spend much time talking about the two movable weights because they are useful, but they don't miraculously turn the Epic Sub Zero into a totally different driver. The weights will allow players that are a good match for the Epic Sub Zero to fine tune it a bit more to optimize their performance numbers and the club's feel. As I said, that's ok, the regular Great Big Bertha Epic is a nice stick too with different adjustability. [carousel]
---