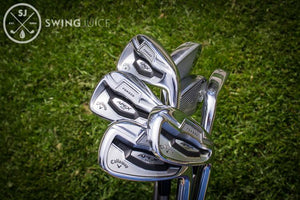 Review: Callaway Apex Pro 16 Irons
Callaway Apex Pro 16 Irons
In my opinion, the Callaway Apex Pro 16 irons are the crown jewel of their iron offerings. It may be a bold statement to say these irons are perfect but I believe they are about as close as perfection gets in a golf club.
The Highlights:
Tour Influenced Shaping and Design
1025 mild carbon steel and advanced quadruple net forging for soft feel
Progressive CG for Playability and Precision
Wide range of shaft upgrades available at no upcharge
Find the Callaway Apex Pro 16 Irons HERE.
The Vibe:
You are going to be pretty hard-pressed to find a better total package than these irons. They definitely don't look anything like the old Tour irons in the back of your grandpa's garage. These Apex Pro 16's are a picture of what modern elite golf clubs will look like. The traditional smaller profile is still a classic look but the cavity and badging leave you with the impression that there's something more modern about these clubs. For a club generally geared toward better players they have some of the most forgiving and lively feeling I've ever seen out of this category of irons. Typically player's irons have a more solid feel to them, but these Apex Pro 16's provide the same level of super crisp feedback while having that softer feeling.
On Course:
A main design feature in the Apex Pro irons is the optimized CG throughout the set. The longer irons have lower CG making it easier to get them in the air, the shorter irons have a higher CG which makes it easier to hit a lower, more accurate and controlling ball flight. I found the long irons extremely easy to hit long (aka lots of distance) and high with easy control. Don't be alarmed though, you can still control the trajectory up or down but players looking for help in this portion of their irons will benefit from the design. I know a lot of players are making combo sets with these irons in their long irons and some type of muscle back blade in the shorter irons. I'm not going to try and speak for anyone else, but I didn't feel I was missing anything in terms of feedback or control by playing the Apex Pro 16's in my short irons as well. I had good control with my shots and plenty of shot feedback to feel like I could make the plays into the greens I was looking for.
The Verdict:
It's pretty tough to really say much else about the Apex Pro 16 irons. They are the definition of a total package. Tour looks, compact head shape, tremendous feel and workability, and plenty of game. I think we'll see irons like these as the way of the future for elite golfers to start moving away from the traditional blade irons our fathers and their fathers grew up on. My Verdict: Excellent all-around iron with a crisp feel and all of the performance benefits to match. Far and away one of the best irons from any of the major equipment manufacturers in the game. [carousel]
---