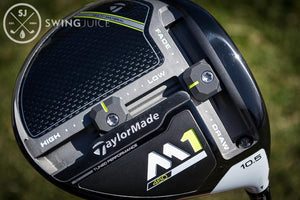 Review: 2017 TaylorMade M1 Driver
2017 TaylorMade M1 Driver
The TaylorMade M1 is easily one of the most recognizable and sought after drivers in the golf industry.  A large part of this is because of TaylorMade's decades long rule at the top of the gear pyramid and a large part is from recognizable star players like Dustin Johnson, Sergio Garcia, Jason Day, Rory McIlroy, and Tiger Woods playing their clubs.  After watching Dustin Johnson bomb the ball around the course, who wouldn't want to try the same driver to try and find similar magic?
The Highlights:
The 2017 M1 has 43% more carbon than 2016's model to enable lower CG for better launch
Redesigned T-Track for improved adjustability
Maximum distance and forgiveness through multi-material construction
64% more front-to-back CG adjustability
4" aluminum Loft Sleeve features 12 adjustable settings
Three stock shaft choices: Fujikura Pro XLR8 56, Mitsubishi Kuro Kage Silver Dual-Core TiNi 60, Project X HZRDUS Yellow 65
Find the TaylorMade M1 driver
HERE
.
The Vibe:
I'm not sure it gets much cooler than the TaylorMade M1 driver. The black carbon fiber crown set against the white topline is so smooth and looks great sitting behind the ball. Much to TaylorMade's credit too, that color scheme is impossible to miss on the TV broadcasts. It just jumps out at you. Then when you have the likes of Dustin Johnson hitting million yard tee shots with it, it only adds to the cool factor. Let's cover the basics a bit. The M1's head shape could be the industry standard for drivers. There's nothing too extreme about it, it's simple, and it really is perfect.  Aside from looking cool, the new M1 driver feels and sounds amazing. TaylorMade has always had one of the more lively faces on the market and the new M1 driver lives up to this reputation.
On Course:
First and foremost, this review was conducted with the standard 460cc version of the M1. The 2017 driver lineup also includes a smaller 440cc M1. The most important part of hitting a golf shot as long as you possibly can is finding the dead center of the face. In the modern era of golf, clubs have become more and more configurable making it easier for golfers to consistently hit the center of the face.  Of course, amateur golfers that spend less time on their game
need
want something that makes this easier to do with less practice. This may be the greatest defining quality of the new TaylorMade M1 driver.  A couple tweaks of the T-Track make it easy to get the club to feel right in your hands as well as get the ball flight you're looking for. Once I found the right settings on the M1 it seemed nearly impossible to miss the sweet spot.  I promise you I don't mean that as any testament to my own game, but rather how solid the M1 driver is. Once I had the M1 driver dialed in, I was hitting some effortlessly long bombs. Not only was I hitting it longer but it felt like I could drop the ball on any target at will. I mean, it was like I didn't even have to try. I am totally willing to be my own devil's advocate and admit others will experience different results, but I was really pleased with my experience. TaylorMade always carries a lot of hype, but I have to tell you, this M1 lives up to it. It's really hard to argue with premium performance and consistency. For players that want to be able to do more than just hit a straight ball, there's plenty of shot maneuverability in the M1 driver.  Going back to the adjustability of the M1, if you're looking to add a little bit more movement for shot shaping or help with your trajectory, the M1's adjustability does the trick. There's enough range in the T-Track to make small minor adjustments for just a hair of change (ok, relatively speaking, don't nit-pick) or you can make significant tweaks to greatly alter the performance of the driver.  I'm not discrediting any other brand's "adjustment capabilities", but I believe TaylorMade has the best functional adjustment system in the game.
The Verdict:
The $500 price tag on the 2017 TalyorMade M1 driver is a little steep, but you get what you pay for. If you're like most average golfers you're likely going to keep this club in your bag for more than one season which makes it a perfectly sound investment. It's a lot like buying a performance car. Sure, you can buy a perfectly fine Honda Civic for $20,000 but if you want to keep up with a Lamborghini you're going to have to spend a few more dollars. If you're a serious golfer, it pays massive dividends to invest in a good driver which the M1 is about as good as it gets. True, you could buy last year's model cheaper, but I would argue the 2017 version is 100% worth the upgrade. My Verdict: The 2017 M1 driver is very forgiving, as long as they get, and has the high-performance looks to match. A very worthwhile investment in your golf game.
The Aftershow:
The Aftershow
is where we talk about aspects of the equipment that's of interest but didn't necessarily make the review. We didn't really dive into any comparisons between 2017's M1 driver and 2016's. What I can tell you is that I think the 2017 version is significantly better. I thought the 2016 model was fine, but the 2017 model is exceptional. It's hard to explain, but I feel like the 2017 version is more 'polished' and to some degree better in many areas. Obviously guys on the Tours got along just fine with the 2016 version, but for the average person making the investment in a quality club, the 2017 model is a no-brainer.  I applaud TaylorMade's efforts to refine a good golf club from last year and really make it a great club this year. [carousel]
---