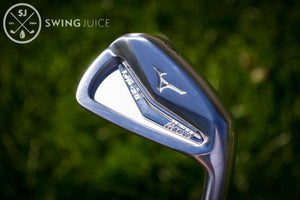 Regular Guy Reviews: Mizuno MP-25 Irons
Our Regular Guy Reviews the Mizuno MP-25 Irons
Mizuno. A name synonymous with the best feeling irons in the game. The MP-25 are no exception to this. The goal of the MP-25 was to blend a Tour looking players iron with a little bit of forgiveness, while maintaining that buttery forged feel that everyone knows Mizuno for. As much as we are Regular Guys on the course, we can't deny out love for the look of a "player's" club. Those thin soles and shinny chrome finishes. We want to put them in the bag, but we know it just kills our scores. Enter the Mizuno MP-25. No Follow - rel="nofollow" Find the Mizuno MP-25 Irons HERE. Joe Pro‰Ûªs Original Review

The Vibe:
When I think of Mizuno irons, I think of those thin, chrome blades that I wish I could play. The MP-25 maintains that awesome chrome finish, while adding a bit of girth to the sole. These irons look flat out sweet, yet playable. In reality, they look like you expect a set of Mizunos to look. Mizuno does a great job here with keeping the top lines fairly thin on the MP-25. They don't look quite like butter knives, but they also don't look like a game improvement iron. Similar to a player's iron, there isn't a whole lot of offset with the MP-25, and the heads are fairly compact. The design is very simple, but again, these still give you the feel of a classic Mizuno iron.

On Course:
I'm going to say it, I really want a set of MP-25s in my bag, and they just might make it. It's not because they're the longest irons on the planet or have any crazy technology in them, and that's for good reason. These irons offer everything I'm looking for in an iron: buttery feel, enough forgiveness for an Average Joe, and consistency. I won't sit here and say they're the most forgiving clubs around, but a mid capper with good ball striking will be just fine with the MP-25, thanks to the Micro Slot Tech, which gives a little more forgiveness than a traditional Mizuno. The thing I like best about the MP-25 as an average player, is the progressive forgiveness I felt within these irons. I felt like I could throw darts out there (or at least what I consider throwing darts for an average guy) and work shots with the shorter irons, and the longer irons gave me the confidence and forgiveness that I need for a fairly inconsistent long iron game. They felt almost like a combo set makeup within a single set of irons.

The Verdict:
If you're looking for the look and feel of a classic Mizuno iron, with a little bit more forgiveness for the regular guy, look no further than the Mizuno MP-25. They offer a great blend of looks, feel, and forgiveness, and have the performance to back it up. They're not going to break any records in the distance department, or blow your mind with any new technology, but they will flat out perform on the course. My Verdict: I want a set of these in my bag. I think they set up great for a regular guy that has some good ball striking. I absolutely love the look and feel of these, and they may be a mainstay in my bag very shortly. As always, if you have any questions, leave a comment below and I'll get back to you.
---