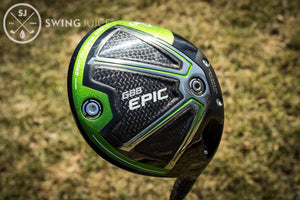 Regular Guy Reviews: Callaway Great Big Bertha Epic Sub Zero Driver
Our Regular Guy Reviews the Callaway Great Big Bertha Epic Sub Zero Driver
You'd have to be living under a rock to not be clubbed over the head with all of the Callaway Epic talk this season, at least if you follow golf at all. A couple of the golf publications and sites that I follow even said these clubs would be a real game changer. Game changer, huh? I'll take all the help I can get to improve my game so I was perfectly willing to tee it up with the Epic Sub Zero driver when it came through Swing Juice HQ this season. I'll warn you up front, this review is a long one so strap in! If you want to give the Epic Sub Zero a go, you can find it
here.
Joe Pro's Original Review Here.
The Vibe:
I absolutely do care what my clubs look like. In no way do I subscribe to the theory that "I'd hit a pink driver as long as it got the job done". In fact, I would bet a lot of people truly feel the same way if they were to be totally honest with you. If I'm going to spend a decent amount of coin on a piece of equipment, really in any sport, I'll openly admit that I want it to look cool too. When it comes to that cool factor, the Epic Sub Zero driver delivers. The black and green color scheme is sharp and the carbon fiber crown is about as cool as it gets. Added touches like the matching colors in the shafts and grips shows Callaway's attention to detail. I think better players, like our own
Joe Pro
, will garner more excitement with this driver on the course than guys like me, but I still had a lot of fun hitting it. Forgiveness in the club is key for me as I tend to not always hit the dead center of the driver face every single time on the tee. In my old driver I definitely feel the loss of power when I miss the center, but with the Epic Sub Zero those same types of shots felt solid and gave me hope that I would still have a decent shot. Sneak peak: this was often the case.
On Course:
Was the Callaway Epic Sub Zero driver a silver bullet for my driving game on the golf course? I won't try and tell you that my game was immediately revolutionized, but there were glimmers of greatness that I think I would have benefited from more if I was a little more consistent player. First off, I had to have the heavier weight in the back of the club. When I had that weight forward I was topping a lot of balls off the tee. Second, a lot of my good shots were really good but my bad shots were really bad. If I sliced or hooked a ball, it was
moving
. Now this is where the Epic Sub Zero was amazing. I mentioned earlier that shots where I thought I missed the center of the face felt solid and like I still had a chance of being in decent shape. That Jailbreak technology you've heard so much about is in the club to do exactly that. Rather than have those shots fizzle out and die in the rough about 160-175 yards away from me, I was still getting about 225 yards and being left in a playable spot on the hole. As I understand it, this is because Callaway has made the face hotter so speed stays up no matter where you hit it. The center of the face is still, and always will give you the best speed/distance, but you won't be so doomed for not being perfect with this club. After talking with Joey Pro about this driver, I don't think this driver is a "low handicap only" driver but it isn't a
one size fits all
driver either. I think with a little time I could play the Sub Zero fine but I'm likely a better fit for the regular Epic (this will hopefully be put to the test down the road).
The Verdict:
There's no question that the Callaway Epic Sub Zero driver is one of the coolest looking drivers out there and is synonymous with "high end". Rory McIlroy currently has one of these in his bag (at the time of writing this) but that doesn't mean the average player like us can't play it too because we aren't a low handicap player. I strongly encourage everyone interested in the Callaway lineup to hit both Epic drivers before buying one to see which feels best for you and gives you the best results. My Verdict: Super cool looking driver, but make sure you try it out before you buy so you know if it's a good match for you and your game.
---