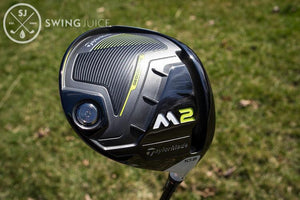 Regular Guy Reviews: 2017 TaylorMade M2 Driver
Our Regular Guy Reviews the 2017 TaylorMade M2 Driver
Writing "the people's" review about the 2017 TaylorMade M2 driver is a simple task for me because it just so happens to be the driver I currently use. I have been a moth drawn to light with the TaylorMade drivers since the first wave of M drivers came out last season, so when I was due for an upgrade this season it was time to finally check them out. Following our own Joe Pro's advice I made sure to check out drivers from all the major brands, but in the end I landed on the latest 2017 M2 driver. Find theTaylorMade M2 Driver
HERE
.
Joe Pro‰Ûªs Original Review HERE.
The Vibe:
You'll find me to be a broken record with this viewpoint, but I like cool things. Makes sense, right? I like things I spend money on to look cool as well as doing their jobs well. As far as looking cool, the 2017 M2 definitely gets the job done. When I look at it, it reminds of a space-age super car like a McLaren or something. In terms of actual golf vibes, the M2 is a large head but no larger than any other full-sized drivers you're going to find at the stores.
Joe mentioned in his review
that the M2 feels very solid when you hit the ball. This took me a little bit to get used to but I ultimately preferred this feeling because it gave me better feedback from the ball. That solid feel let me know when I hit good or bad shots with more clarity. If I was a little bit better player, maybe I wouldn't care as much, but I like knowing where I'm hitting the ball on the club so I can use that feedback to try and get better.
On Course:
I suppose this is the main reason I ended up going with the TaylorMade M2 driver. It sounds like a total no-brainer, but it felt like all it took was putting a decent swing on the ball to launch it in play. No, it didn't turn me into a perfect driver of the golf ball but it felt like there was a lot less of a fight to control the ball and pop it down there. That control element was the biggest factor in my decision. As long as I make a swing with good tempo, I get an easy 250-265 yards and have a playable second shot. Mix that with the feedback I mentioned earlier and I have a driver that gives me confidence on the course which I would guess is most of the battle for players like me.
The Verdict:
Even I'm not naive enough to say the TaylorMade M2 is the perfect driver for everyone, but I do think it's a really good club that is worth testing if you're looking to replace your current driver. It just so happened to leave the best impression on me and give me the most confidence out of everything I tested so my purchasing decision was extremely easy. The Verdict: The M2 feels solid and is easy to control with good distance which earned it a place in my bag for the foreseeable future. [carousel]
---