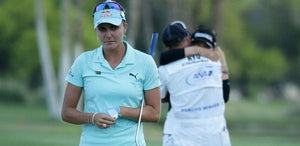 Quick Hits: The Week Before The 2017 Masters
It's the week before The Masters but there's still plenty of other action around the golf world. Here are the Quick Hits from last week.
Dustin Withdraws From Shell Houston Open Prior to Masters
Dustin, the winner just by waking up these days, had to skip out on the Shell Houston Open this past week to catch a breather before Augusta. Seems more than fair, right? Check out the blog post here.
Henley Wins the Shell Houston Open - Headed to The Masters
Russell Henley made a big charge on Sunday to not only win the SHO, but he now finds himself headed to Augusta this week. Not a bad result!
Lexi Thompson Gets Screwed in LPGA's First Major
I'm still so livid about this it's not even funny. So much I want to say but I can't focus my rage enough to put it down. Long story short, Lexi was leading on Sunday, some jag emailed the LPGA that they saw her replace her ball on its mark wrong on Saturday, they assessed her a four stroke penalty in the middle of her round on Sunday and she went on to lose the tournament in a playoff. I'm SO sick of armchair officials in golf. I hope someone punches that person who sent the email right in the stomach. Here's a couple articles from Golf Channel if you want to read more here and here.
Time for LPGA Courses to Get Tough
The LPGA has had an average winning score of 20 under par this year. 20 UNDER PAR!!! Randall Mell at Golf Channel wrote an interesting article saying the LPGA needs to set the courses up a bit tougher for these professionals. Our blog post over here dives into it a bit more and links you to Mell's article.
Tiger Out for Masters
This isn't news nor surprising, but Tiger officially withdrew from the Masters this past Friday. Hopefully Big Cat will be back for real soon!
Grayson Murray Still a Twitter Savage
Grayson Murray, PGA Tour rookie, has established himself as the ultimate Twitter savage in the golf world. Well, he may have finally met his match when Ben An put him in his place last week in a debate about earning World Ranking points around the globe. Check it out here.
---