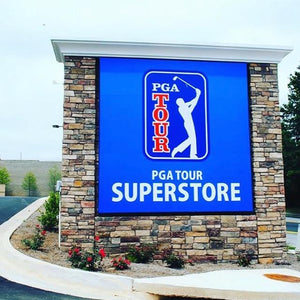 PGA Tour Superstores to Carry SWINGJUICE Gear
Brick and Mortar stores are dying.  Strip malls are closing up shop nationwide leaving abandoned shopping districts.  Sporting good stores specifically are closing left and right.  Lets visit the bankruptcy graveyard.
Sports Authority
Golfsmith
Sports Chalet
MC Sports
Eastern Outfitters
Gander Mountain
Yup, every single one of those stores has declared for bankruptcy in the last three years. Know who's not closing? Know who has tripled their total number of stores in the last seven years?  Know who plans on increasing to 50 stores by 2020 with an average size of 37,000 square feet...PGA TOUR SUPERSTORES that's who! If you happen to live near one, you know that when you walk in you get the same feeling you did when you were a kid walking into a Toys "R" Us (RIP).  PGA Tour Superstores have everything and you can try it all out.  I know many of you reading this are guilty of spending two to three hours inside one, hitting multiple clubs and never buying anything.  Those of you who have never been to one now have a reason.  PGA Tour Superstores is going to carry (in every single one of its stores) two of SwingJuice's most popular T-Shirts:
Keep Calm Tiger is Back and The Match T-Shirts
Both of these two amazing shirts will be available in a full size run of Small-XXL.  So whether you're tiny like Rickie Fowler or enormous like Hulk you can find a comfortable, cool shirt that will fit you. Now you have no excuse not visit your local PGA Tour Superstore.  But, lets just say, you live no where near a PGA Tour Superstore...we've still got you covered!  Click on the shirts above and order them right off our website.  Same exact shirt, same exact greatness.  Because we all need more calmness in our lives, Tiger IS back and you know you're watching the match in a post Thanksgiving food coma (might as well be comfortable and look good).
Drop a comment below on which PGA Tour Superstore you shop at.  Hit us up on twitter at  @swingjuice @swingjuice dan @angrygolfhulk or on Instagram at  @swingjuice  @danpataschergolf.  Be sure to share some pics in SwingJuiceGear using #Wearsyourswingjuice ANGRYGOLFHULK is trying on shirts at PGA Tour Superstore and ripping every single one of them..
---