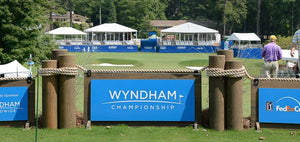 PGA Tour Pro-Am's
What do you when you want to know all about the PGA Tour but you don't play on the PGA Tour.  You come here of course.  Leave the Pin In Podcast brings you inside the action of the PGA Tour during the Wyndham Championship.  Monday saw the BB&T Pro-Am event take place.  26 pros and their 3 amateur partners competed on the famed Sedgefield CC.  We decided to follow on group around who had Ryan Sharpe as their pro.  Maybe you haven't heard of Ryan Sharpe.  He is a Sedgefield CC member who is a past club champion.  He plays some mini tours around the Carolinas but does not have a tour card.  Some of Ryan's pro-am playing partners have won the championship in the past.  Ryan told us that he was called a day ago and asked if he wanted to play in the pro-am...AS THE PRO!
Of course he accepted.  We spoke with him on the first tee and then he proceeded to blast a 310 yard drive down the right side, hit it to 15 feet under the hole and drain the birdie putt.
You have no idea how many good golfers are out there grinding on tours that you have never heard of.  Ryan is not in the field, does not play on the tour, and proceeded to dismantle the course that is playing under PGA Tour conditions.
During the pro-am we witnessed pulls, hooks, fades, shanks, birdies, bogies and more.  The AM's pay a hefty price to play with the pro's and from the looks of it, they get their monies worth.  Where else and in what other sport can you play the actual game with professionals in the sport?  NO WHERE!  The PGA Tour has an amazing ability to connect with their fans and the Wyndham Championship shows that off.
Listen to our podcast, Leave the Pin In on iTunes, Google Podcasts, Spotify and wherever you listen to your podcasts.
Click our logo to go to the the podcast
Follow us on Instagram at @SwingJuice and @LeavethePin
Tag us in social media with  #swingjuice     #leavethepinin
---