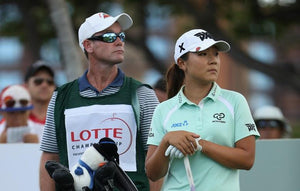 Lydia Ko's Ex-Caddie Speaking Truth
Golf Digest - Despite finishing in a tie for second at the LPGA's Lotte Championship last weekend, Lydia Ko fired caddie Gary Matthews after just nine events together. If that narrative sounds familiar, it should: the 19-year-old dismissed Jason Hamilton, who looped 10 of Ko's 14 career victories, last October.
Following the split, Matthews spoke with Golf Digest/Golf World senior writer and Golf Channel insider Tim Rosaforte about the decision.
"In all honesty, there is no communication in the whole camp. You never know anything or are told anything," said Matthews. "The agent [Michael Yim of IMG] called me on the Monday after Palm Springs and said, 'She needed a change, we‰Ûªre going with somebody else, but you can caddie in Hawaii.'
"I‰Ûªm like well, never in 19 years have I been fired, and I‰Ûªm still working for the person. What was so strange for me, we worked unbelievably well in Hawaii, the communication and everything was just phenomenal."
Matthews, who has worked for Sergio Garcia, Anthony Kim, Trevor Immelman and Camilo Villegas, was told that Ko "needed a friend out there." In a little more than three years, Ko has gone through nine caddies.
Matthews said Ko is a lovely person, but was blunt in his assessment.
"I wish her the best, but she‰Ûªs gone through so many caddies, she needs to wake up on caddie-player relationships," said Matthews. "Otherwise she‰Ûªll just keep doing it."
I've gone from being a Ko fan to being totally over her. I don't know how much of her ongoing drama has been her fault, her parents, her business, whatever...but whenever I see players get like this, I have a real hard time pulling for them. I think she's clearly living in some other world, chasing dollars (hey, can't fault that money), and just making her life more difficult. In short, I appreciate this dude's honesty and I'm glad to hear someone who has been on the inside actually speak out about it a bit.
---