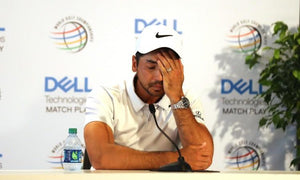 Jason Day Withdraws Again for All the Right Reasons
Golfweek - AUSTIN, Texas - Jason Day, the former World No. 1 who now sits at No. 3, walked off the golf course after sixholes of his opening-round match against Pat Perez. This time for the oft-injured Aussie, it wasn‰Ûªt his ankle, or his wrist, or the balky back that has slowed the 29-year-old at various times.
This time, it was his heart.
Day‰Ûªs mind wasn‰Ûªt on golf in Texas, but instead consumed by thoughts of his mother, Dening, who is back in Columbus, Ohio, awaiting surgery on Friday at Ohio State‰Ûªs James Cancer Hospital. Dening (who‰Ûªs real name is Adenil) has been diagnosed with lung cancer, and Friday‰Ûªs scheduled surgery is to remove what her son said is a ‰ÛÏ3- to 4-centimeter mass.‰Û
When she visited doctors back home in Brisbane, Australia, where she still resides, doctors told Dening that her cancer was terminal, informing her that she might have 12 months to live. She is not yet 60 years old.
Just a couple of weeks I was sitting here, along with the rest of the golf media, busting Jason Day's ball for yet another withdrawal related to health. Well, allow me to officially insert foot into mouth. Turns out Jason has been a bit distracted and totally understandably so. Given his story of rising from nothing to one of the best golfers in the world (if you don't know the story, it's a good trip down Google) all at the sacrifice of his mother, it's no wonder that Day has plenty of other things aside from golf on his mind. My sincerest apologies to Jason for taking him to task. I guess that's what you get for presuming you know the whole story. My very best to Jason's mother and the whole Day family. We will all be thinking of them through this battle. You can watch the press conference
here
.
---