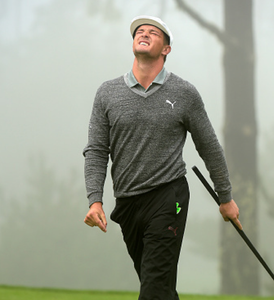 I'm Over Bryson DeChambeau
I'll admit it, I tried real hard to get on the Bryson DeChambeau train, but I just can't do it. Watching him dominate the NCAA and then the US Amateur all while hearing about his quirky, albeit totally sick, one-length super custom Edel irons was both fun and refreshing. Then the public started hearing about his scientific golf ball tests in some salt water solution, and then we started getting glimpses of these complex formula cards he has written out for calibrating his different wedge distances and swings (which I understand his calculations to be incorrect but can't find the forum post proving it). DeChambeau started getting branded as the mad scientist and everyone was buying into it hook, line, and sinker. Of course they were, he was dominating the world. The next great saga in the Bryson story was when he left SMU early amidst sanctions being imposed on the school's golf team. Bryson methodically maintained Amateur status in order to keep his qualified spot in The Masters which he would no longer be eligible for had he decided to declare himself pro. Well,
since then, Bryson hasn't done much
aside from winning a Web.com playoff event to clinch a PGA Tour card (ok, that's a fair enough accomplishment), finished T15 at the '16 US Open, and one Top 10 on the PGA Tour. In fact, he's only made 11 cuts out of 24 PGA events. While we're at it, let's cover his putting. Bryson "made headlines" by switching to side saddle putting, which he says once he's dialed in will be like cheating. Well the USGA agreed and said the silly putter and use of the putting style were non-conforming and he had to make some changes. The funny part is, going side saddle has only made him putt worse. Bryson was previously putting at -.302 strokes gained so no wonder he wanted to make some kind of change. Of course, since changing to side saddle, he's dropped to -.617 strokes gained. Yeesh... The point is, Bryson kind of sucks at putting for a professional that's so highly touted. Frankly, I'm over it. I don't find the quirky mad scientist thing nor the Ben Hogan cap endearing, and I'm not convinced anything Bryson's doing is revolutionizing the game or making it easier for people to play. I do appreciate that he's a character different from the mold, but I'm ready for him to not be shoved down my throat so much. If you're making the appearances he's making, you need to be prepared to back it up. It reminds of the kid on the JV hockey team wearing number 99 on his jersey. Who do you think you are? I died when I read this tweet from PGA Tour rookie, Grayson Murray, the other day:
Hey @PGATOUR there should be a rule if you get a sponsor invite and withdraw after 28 holes your not allowed any other invites rest of year

‰ÛÓ Grayson Murray (@GraysonMurray) February 17, 2017
This was in response to Bryson withdrawing from the Genesis Open citing a hand injury after 28 holes and weather delays while on his way to a fourth consecutive missed cut. If Bryson's hand is really injured, hopefully he can heal up quickly, start playing some decent golf, and maybe make a cut or two. Then we can re-discuss the whole mad scientist thing.
https://swingjuice.com/collections/mens-new-releases
---