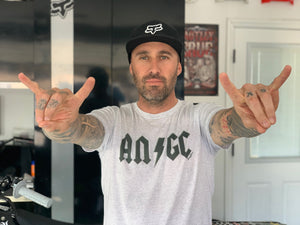 Honoring Augusta
Everyone has a favorite golf tournament, and let's be honest, it takes place in Augusta. Each year since 2014, SwingJuice has released original designs relating to golf's most popular tournament. Thousands of golf fans now relate us to April, as they await our release to stock up on their watch-party shirts. Each design is an ode to a different aspect of Augusta, and the details found on the iconic grounds. It is tough to describe how being there takes your breath away, but our hope is that you remember each special moment when you wear our Augusta Collection. This year, since we cannot be there in April, we can still celebrate our love for Augusta. Below are nine of our favorite Augusta Collection shirts and the story behind them.
We all know the details that makes Augusta iconic. SwingJuice decided we would mesh iconic golf with one of the most iconic bands of all time and create the perfect golf tee shirt!
Shouldn't you be rockin' one?!
The new Tiger Woods. It was 2015 and up walks Tiger to the chipping area to practice. He was hugging fellow Masters Champions, smiling and jamming out with his ear buds in. We'd like to think it was Hip Hop on the playlist.
Is there a better day than Wednesday at Augusta? The Par Three Contest, where anyone can be a looper! (well anyone in the player's family) You can wear a tribute to the classic white jumper with a reflection of 2020…the year Augusta stood still.
Pimento cheese vs Egg Salad, Georgia peach ice cream sandwiches, chicken biscuits and $2 beer. You don't have to choose as a Menu Taster, you can have it all. The menu at Augusta is one of the best parts of attending. Can you just taste it now?! 
Today and everyday raise your hand if you are taking Tiger -vs- The Field! All Tiger fans can rally around this shirt and all 5 of his Masters wins. Were you taking him to win this week?
For one week a year the small town of Augusta, GA is a complete BUZZ. It's as if someone switches on a bright neon sign that says "Welcome to Augusta Baby!" Tbonz anyone?!
All-day Masters watch parties. Oh how we are missing thee! For those of you that can't be there in person, you would surely be snuggling up all day on the couch and enjoying every moment of the broadcast.
An ode to THE MAN. You've likely seen the classic picture of Mr. Palmer propped up against a Cadillac convertible outside of AGNC with his green jacket on. Does anything showcase CHAMPION better than that?! We think not.
---