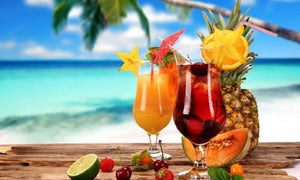 Have a Drink Friday - Tropical Cocktails
With the PGA Tour kicking off the 2017 calendar year at the SBS Tournament of Champions in Hawaii, I can't help but notice it's 4¼F and really feels like -8¼F where I am. Appropriately, I'd like to tip my cap to tropical cocktails on this Have a Drink Friday. The picture above is about all I want in my life right now. Anything involving passion fruit, pineapple, rum, and warm beaches with clear blue water would make for the perfect drink on this frigid Friday.
What's your favorite tropical drink that would hit the spot? Let us know in the comments below. Maybe I'll try mixing one up for a future HADF!
---