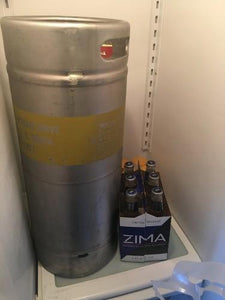 Have a Drink Friday - Surviving a Kids Birthday Party
Yes, we all love our children and want them to be happy, but let's be honest with each other...children's birthday parties are often mind numbing and painful. Having some experience in this field, I knew there would be some adults in attendance at my small child's birthday party that would be desperately looking for something to brighten the event a bit. In my effort to oblige, I ordered up a keg of Brickstone APA and grabbed a sixer of the limited release of Zima. The overall goal was to create a novelty that would put a little sparkle in their eye and at least make them go, "alright this isn't going to be so bad" while enjoying a quality beverage (I'm not talking about the Zima). I like to think a few pours from the keg and the Zima was enough to put some smiles on some faces on a hot summer's eve.
PS. No, we're grownups, there were no keg stands.
---