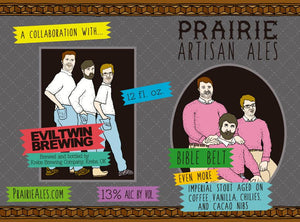 Have a Drink Friday - Prairie Artisan Ales/Evil Twin Bible Belt
I enjoyed one of these bottles last week. In fact, only one because that's all I was able to get and it's quite heavy. My beer store got such a small quantity in that they sold out within an hour of delivery, but a friend sacrificed his bottle for me. The beer I'm talking about is Bible Belt by Prairie Artisan Ales and Evil Twin Brewing.
Bible Belt is based on Evil Twin's Even More Jesus Imperial Stout spiced the same way Prairie's Bomb is with coffee, vanilla, chilies, and cacao nibs. I don't think this beer is necessarily worth going crazy for, but I bring it up here because I think it's worth going for if you happen to come across one in the wild and you're in the mood for a big 13% Imperial Stout to warm you up.
---