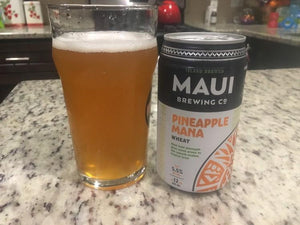 Have a Drink Friday - Maui Brewing Company Pineapple Mana Wheat Beer
I stumbled on this little gem earlier this summer.  Up until recently I've only heard about how good Maui Brewing Company beers were from people that visited the brewery deep in the Pacific ocean.  Then one day I stumbled into my local shop of choice (shout out, Cellar) and saw three different MBC beers sitting on the shelf.  Naturally, I bought one of each.  I knew their Coconut Porter was famous so I had high expectations for that, but the star of the show was easily this Pineapple Mana Wheat.
MBC uses Maui Gold pineapples in this American wheat beer.  This beer is so damn smooth and the pineapple gives it a perfect sweetness.  In a house that sees a wide range of craft beer roll through it, Maui Brewing Company's Pineapple Mana quickly became a household staple.  Unfortunately, it's not always available so if you see some, make sure you stock up!
---