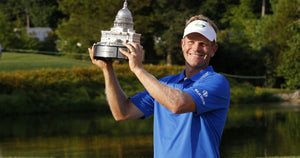 Greatest Current U.S Golfer *Hint...Not Who You Think It Is.
Tom and Arnie and Jack and Tiger, that's who you're thinking...I know it.  As the fourth of July dawns many of us will think about this country in terms of BBQ, Beer and Fireworks.  As golfers, many of us will go to our clubs or local muni's and play in Flag Tournaments or Firework Scrambles.  I'd like to do the opposite right now and shine a light on a tour pro whose done a little more for our country.  I'd like to take this post to acknowledge Billy Hurley III.
Willard Jeremiah Hurley III of Virginia might be the greatest current AMERICAN golfer.
Hurley is a 2004 graduate of the United States Naval Academy.  You read that right...The USNA.  While other tour pros were whining about drops or spitting in cups Billy was serving our great nation.  He earned a bachelor's degree in Quantitative Economics and was named Academic All-American in golf
Grinding on the range or mini tours is the typical way most pros earn their way onto the PGA Tour.  Billy was commissioned an Ensign in the United States Navy in 2004, rising to the rank of Lieutenant and serving until 2009.  After his graduation from the academy, he was assigned to the USS Gettysburg, a guided-missile cruiser based in Florida, where he was a combat electronic division officer.  Instead of heading down south to play the mini tour circuit or find some deep pocketed backers he went on to teach economics for two years at the Naval Academy. From 2007 to 2009, he served a tour of duty in the Persian Gulf aboard the destroyer USS Chung-Hoon.
Billy started his pro career in 2011 on the Nationwide tour (current Korn Tour) where he finished 18th of the year end money list to earn his PGA Tour Card.  In 2012 Billy missed his tour card by a whopping $165.  This seems like an injustice to someone who served their country and took a round a bout way to get to the tour.
None of that mattered to a guy who took an oath to serve our country.  Perseverance and mental strength are bi-products of serving in any of the military academies.  Billy's time came in 2016 where won the Quicken Loans National Tournament.  All the more fitting was the fact that the tournament is held in our nations capital during 4th of July week.  It was truly a special time for the PGA Tour and could not have happened to a more deserving American Tour Pro.
Billy is currently still playing on tour and creating his own charity golf tournament, Billy Hurley III and The Brave Golf Tournament, at the Naval Academy Golf Course in Annapolis.  His tournament serves a few different entities in and around the Maryland area as well as money that goes to Naval scholarships.  How can you not root for a Real American Hero who plays out on tour
Next time you're at an event and you see BHIII, give him a thanks a quick salute and realize that there is a lot more to some of the tour pro's out there than the PGA Tour media would have you believe.
Celebrate our nations independence with one of our REAL AMERICAN HERO's shirt.  You might not be able to serve our country or play on tour but you can support the REAL AMERICAN HERO'S that do (Billy, if you read this, hit me up so we can get you a shirt...we are enormous fans of your lifetime support of our country).
Click on the link above to purchase the shirt.
Listen to our podcast, Leave the Pin In on iTunes, Google Podcasts, Spotify and wherever you listen to your podcasts.
Click our logo to go to the the podcast
Follow us on Instagram at @SwingJuice and @LeavethePin
Tag us in social media with  #swingjuice     #leavethepinin
---