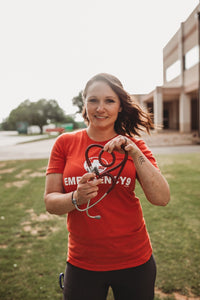 Fighting Together
A few short months ago we would never have imagined we would soon be in the middle of a global pandemic. It seems surreal to all of us. Perhaps no one understands the shock, magnitude and exhaustion brought forth from COVID-19 more than our front-line workers. Doctors, nurses and all emergency personnel such as EMTs and firefighters. Here at SwingJuice we want to honor and celebrate those on the front lines of this pandemic. To say we see you. We empathize with you. We thank you.
Giving back is important to our SwingJuice team. We are involved in several charity golf events that raise funds for amazing causes such as St. Jude Children's Research Hospital, The Begin Again Foundation, The Michael Phelps Foundation and select youth organizations chosen by Anthony Anderson.
During this unforeseen time of need, SwingJuice has also chosen to make a donation to The First Responders Children's Foundation. In addition, we will be supporting local first responders to our team members by providing shirts from our new collection (HERE), water and meeting other needs.
As we take this time to celebrate and thank first responders, we encourage you to also reflect on how you can give back and support causes in need. Because as we face this virus and trying times with our economy, we are all Fighting Together.
PS: Check out our new Fun Golf t-shirt designs. We think you will find them quite relevant! (HERE)
---