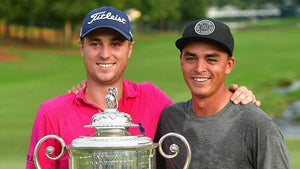 BRO, Do You Even Golf?
Golf Bro.  Definition-Noun: A BRO who golfs on a large open-air course, in which a small hard ball is struck with a club into a series of small holes in the ground with your BRO. Rickie has Justin. Brooks has DJ (when they're not fighting and destroying the United States chances in a Ryder Cup.) Phil has his blackjack dealer. Tigers got Butch, errr I mean Hank, errr I mean Sean, errr I mean Chris... Patrick Reed has....Ok, so maybe there's not someone for everyone. Everyone's got their Golf Bro.  Maybe you have one, maybe you have ten. 
Whoever or wherever they are, you can count on them to be on the first tee at a moments notice.  Birdie or triple bogey, your Golf Bro has your back. Celebrate the Golf Bro lifestyle with our limited edition Golf Bro shirt. This shirt is perfect to hit the range with your bro, watch the Masters with your bro or just be a bro with your bro.  This is the shirt you need if you're planning a bachelor party and need a shirt for all your Bro's.
Drop a comment below on your favorite course to play with your BRO.  Hit us up on twitter at @swingjuice @swingjuice dan @angrygolfhulk or on Instagram at @swingjuice @danpatascher.  Be sure to share some pics in SwingJuiceGear using #Wearsyourswingjuice Hulk is currently trying to convince someone, anyone, to be Patrick Reeds Bro...It's not going well.
---