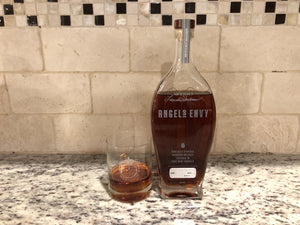 Angel's Envy Cask Strength
Angel's Envy Cask Strength is one of the REALEST bourbons I've ever had.  I actually first came across it in person at a local establishment near my house, and given I'd never seen it in person, I ordered a pour.  I'll tell you what, this one will put some hair on your chest.  This is a bourbon to savor.  While the high price tag due to such a limited release is part of that incentive, the 124.5 proof pour is full of complex notes and great woody flavors. For more on Angel's Envy Cask Strength, here's what Angel's Envy had to say for themselves:
Ranked the "Best Spirit in the World" by Spirit Journal in 2013, Angel's Envy Cask Strength Bourbon Finished in Port Barrels is unlike any whiskey you've ever tried. Angel's Envy is releasing a very limited number of bottles of our award-winning Cask Strength this year, so don't miss your chance to pick up a bottle or two of this rare and delicious spirit. Perfection is a patient man's game. So we waited until Angel's Envy reached the perfect level of maturity. We judge only a handful of barrels exceptional enough for our lengthy finishing process. The result? Even at 124.5 proof, every sip is worth savoring. A remarkably complex and unfiltered spirit, we suggest you enjoy it neat or with just a splash of water to release the flavor nuances, and perhaps with a few friends who appreciate outstanding whiskey. Angel's Envy Cask Strength was worth waiting for, now it's worth sharing.
---