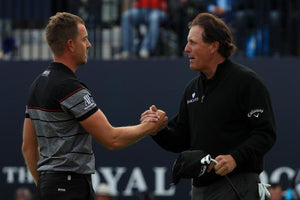 The Duel at Royal Troon - The 2016 Open Championship
Browsing through Twitter the other day,
this little gem
from Golf Digest popped into my feed. It's supposed to document what it was like "behind the scenes" from Phil Mickelson's and Henrik Stenson's (as well as a few others) perspectives before and after their now famous duel at the 2016 Open at Royal Troon. I will say that I think it was one of the most impressive displays of Championship golf of all time, maybe even the best ever, but I'm not buying this telling of the story. I know Henrik is supposed to be a total dude, and Bones Mackay is supposed to be the softer side of Phil, but they make it out to be some romantic fairy tale between the two leading up to Stenson's victory. Henrik is a notorious competitor and Phil is supposed to be a somewhat arrogant BS'er inside the ropes that rubs people the wrong way so I have a hard time believing the level of friendly sunshine and rainbows portrayed in this article. Either way, it was a fun read for mid-December. If you have winter golf fever like we do, it might be worth watching that final round from the Open again if you get the chance. Read the article
here
.
---