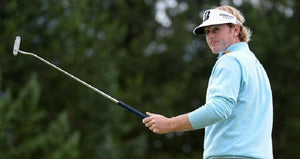 The Curious Case Of Snedeker's Putter
Golf Channel -It was not the startBrandt Snedekerhad hoped for, and that was before he even teed off on Wednesday at the WGC-Dell Technologies Match Play.
Moments before he was about to tee off for his Day 1 match against William McGirt, Snedeker realized something was wrong with his putter, a club he‰Ûªs had in the bag almost exclusively since his college days.
‰ÛÏI was warming on the putting green and it was setting up funny and really upright, I started messing with it and I moved it and was like, ‰Û÷Oh God, the head's loose,‰Ûª‰Û Snedeker said. ‰ÛÏLuckily I had a backup putter that I hadn‰Ûªt even hit before.‰Û
Snedeker‰Ûªs caddie raced to the locker room for the untested putter, an Odyssey Two-Ball model with a different face insert, and Snedeker got off to a solid start with an early 1-up lead, but McGirt rallied with two birdies in his last three holes for a 2-up victory.
Snedeker was having three replacement putters shipped to Austin Country Club in time for his Day 2 match, but he said he was going to try to have his trusted ‰ÛÏgamer‰Û fixed in time for his bout against Andy Sullivan on Thursday.
So what, a random story about a Tour Pro who had to switch to a "backup" putter right before a round. Not a huge story right? Well here's where things get odd. Check out this exchange from Sned's and a fan on Twitter, who claims (and Sneds confirms) he had to come into Golf Galaxy to pick up a new putter.
The Golf Channel article states that the caddy got his back up putter, an Odyssey 2-Ball, from the locker room. In his tweets, however, Sneds confirms he went to the local golf shop and picked up a Rossie 2, which is much more similar to his gamer than a 2-ball. Two putters. Two different stories. So which one is it? Even weirder is that Sneds claims the head came loose at the hosel, something that could have easily been fixed with some quick-setting epoxy which someone at the venue or Golf Galaxy was sure to have. I took to Twitter to see if we could get an answer from the man himself, but I'm yet to get a response. Look, either way, this isn't anything controversial or ground breaking here, nor is it really anything to write home about. All I want to know is what really happened to Brandt's Odyssey, and did he really get his new putter at Golf Galaxy? Or was it Golfsmith..... These are the questions people want answers to, and the people deserve to know, Brandt!
---