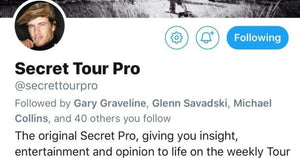 The Secret Tour Pro Interview Part 2
If you enjoyed part 1 of our interview then part 2 is going to blow you away.  The Secret Tour Pro dishes on the tour's inner workings and anything else on his mind.  Without further delay AngryGolfHulk and SwingJuice present The Secret Tour Pro Interview Part 2.  
AngryGolfHulk-How much of a pain is all the yearlong travel you guys do?
Secret Tour Pro-Travel is brutal until you start making it up the leader boards.  Then you can relax and start enjoying your stays.  Shared rooms and sleeping in cars are absolutely horrible situations.
AGH-What is the worst part of being a pro?
STP-TAXES and tour obligations.
AGH-What is the most money that you have ever played for in a round?
STP- No comment.  I'm certainly not one of those guys that feel like they need to gamble to enjoy the game, unlike Phil.
AGH-Can you still play golf for fun?
STP-Golf stops being fun after college.  It's a job like any other and it gets tedious after time.
AGH-If you could change one thing about the tour, what would it be?
STP-Shorten courses and restrict equipment for us.  There is way to much land waste in golf.
AGH-What is the dumbest rule the tour has?
STP-It's golf, all the rules are dumb.
AGH-You mentioned before that Bellerieve was a disaster of a course.  Can you expand on that?
STP-The course was straight up dog shit from the fairways to the rough.  The greens were like putting on the beaches of Normandy.  IT SUCKED!!!
AGH-How annoying is it to answer the same type of golf questions over and over?
STP-I get very sick of answering golf questions.  I got sick of answering them in college.
AGH-What type of music does the Secret Tour Pro listen to?
STP-Music-dealers choice.  Whatever's playing.  I'm currently listening to a concept album that's going to be a broadway musical about the space race.  One of my friends wrote it and it's the most amazing thing I've ever heard.  it's like Hamilton but more real.  It's called "To the Moon".
AGH-What is the best place to vacation?
STP-The Bahamas
AGH-Do you have people approach you in public and do you find that annoying?
STP-Yes
AGH-What is the worst type of fan on the golf course?
STP-People who scream BABABOOOOEEEE.  I want to slit their throats and watch them bleed out!
AGH-Do autograph hounds bother you?
STP-Yes, especially when they send little kids.  But, at my level, you just assume that everything you sign is going to get sold.  Okay Q and A over.  Bye!
And just like that the Secret Tour Pro had vanished back into the twittersphere.  Piece the 2 parts of the interview together and you can tell he's a top tier player, he's very well known and he absolutely loves music. 
We promised not to reveal his identity but if you look hard enough and follow the breadcrumb trail you might be able to pick him out. Leave us a comment and give us your best guesses at who The Secret Tour Pro really is.  Until you find out, follow him on Instagram and Twitter to find more of his behind the scenes ramblings. Can't guess who The Secret Tour Pro is?  Game's not good enough to be a pro yourself?  Just slip on this soft and comfortable pro shirt and start giving random people lessons at your local range.

Drop a comment below on who you think Secret Tour Pro is.  Hit us up on twitter at  @swingjuice @swingjuice dan @angrygolfhulk or on Instagram at  @swingjuice  @danpatascher.  Be sure to share some pics in your SwingJuiceGear using #Wearyourswingjuice   Hulk is currently trying to convince The Secret Tour Pro to let Hulk caddie for him.
---