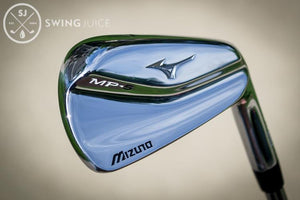 Review: Mizuno MP-5 Irons
Mizuno MP-5 Irons
Mizuno is long known as one of the top irons for serious golfers. I could list off some classic blade models Mizuno has had over the past 20 years and my fellow golf nerds would rejoice in the magical trip down memory lane, but today we're talking about the MP-5. This iron has a classic clean Mizuno look with some updated changes to try and make it more practical for the modern range of players.
The Highlights:
Updated Channel Back design - Maintains thickness behind impact for muscle back feel, but moves enough mass to create stability from off center strikes like a player's cavity model.
Grain Flow Forged - From a single billet of Carbon steel.
Harmonic Impact Technology (H.I.T.) - Mizuno's technology used to fine tune sound and feel of the club.
Find the Mizuno MP-5 irons HERE.
The Vibe:
The Mizuno MP-5 has a classic muscle back appearance, but it's a far cry from the MP-14s and MP-33s of yesteryear.  The soles and toplines are far from razor thin, and while these irons look very much like a blade still, they do not have that same terrifying butter knife vibe Mizuno's blades had years ago.  Offset is a major concern for players in the "blade" category and the MP-5 has minimal offset.  Mizuno used a new Channel Back to add thickness behind the face and place the mass for a more forgiving feel as well as performance.  The result is a buttery feel where a well struck shot sounds like it's whipped off the golf club. The MP-5 is one of those irons that look so elegant and sweet when they're brand new, but will look just as great when they're all beat up and have that nice worn brown spot in the center of the face.
On Course:
One of Mizuno's claims is that the MP-5 is a more forgiving iron that will have appeal to a wider range of players.  I will say that I agree the MP-5 feels more forgiving than predecessors like the MP-14 and MP-33 mentioned earlier, no question, but I wouldn't consider them forgiving.  Mishits are still punishing and finding the sweet spot is key. All of that said, if you're a good ball striker, the MP-5 is a tremendous iron. The great feel makes it easy to control your shot shape and general ball control. The quality of the MP-5 shines most in the shorter irons and I've seen noticeable improvement in my shot-making with those clubs. With all seriousness, I will also add that I've found I consistently hit these irons 10-5 yards longer than anything else I've played recently.
The Verdict:
Like many blade irons, the MP-5 is definitely best fit for a better player. Though Mizuno brands them as more forgiving and better for a wider range of players, the fact is they are still a players club. For those players, however, they are one of the best players clubs on the market and I would not hesitate to recommend them to anyone in the market that has the game for them. My Verdict: The Mizuno MP-5 is a great players iron with tremendous feel and valuable playability to the good shotmakers out there. As always, if you have any questions, leave a comment below and I'll get back to you. [carousel]
---