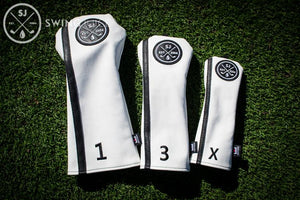 Review: Craftsman Headcovers
Craftsman Headcovers
Everyone loves a good set of headcovers to replace the "complimentary billboards" that come stock with our clubs.  In this day and age, there are so many headcover options out there that finding the perfect set is often a challenge.  It's especially difficult to find that perfect fairway wood or hybrid headcover.  When you finally do, you see they cost a fortune and think it's best to just stick with the free one that came with your club.  Thankfully we stumbled upon Craftsman.  Craftsman has a wide range of headcovers to fit any club and at affordable prices.  If you're looking to get a little crazy, Craftsman also offers a sweet custom program at very affordable prices with no minimum order.
The Highlights:
Affordable custom headcovers with no minimum order
Easy to work with to finalize design
Quality construction and materials
Tons of options
Quick turnaround and delivery
Find Craftsman's website HERE. Shop their Amazon store HERE.
The Vibe:
The world is your oyster, my friends.  With so many options available through their store, it's pretty easy to find something that will express your sparkling personality.  If you're more creative and have a specific idea in mind that will make the exact statement you want your bag to make, Craftsman can do that too.  In our case, we wanted to rep the Swing Juice brand without going too overboard.  Working with the Craftsman team and using templates they had, coming up with the perfect design was a piece of cake and they were off to the races. I'm not too proud to admit that I was expecting a somewhat underwhelming product given the price point and the ease of producing a full set of custom covers.  Honestly, wasn't too sure what to expect other than what I've previously read on the internet about Craftsman which were generally pretty solid reviews.  If you look at the market, custom covers get expensive fast and take awhile to turnaround.  I ended up being blown away.  The headcovers are heavy duty, well constructed, and overall high quality.  There are a lot of domestic competitors here in the States that cost significantly more and are of lesser quality.  Consider me impressed by Craftsman's product.
On Course:
Great, my Craftsman covers look good and are everything I dreamed of.  They still need to hold up well out on the course, protect my clubs, and not fall off while I'm walking down the middle of the fairway where my shots always end up.  As mentioned earlier, the materials are high quality and hold up well after being pulled off of their clubs, tossed around in the cart, banging against other clubs, and just general tomfoolery.  The elastic band in the covers we tested provides a nice tight fit that holds the club head well.  Their size is a little more generous so there is no struggle pulling the covers back onto the clubs.
The Verdict:
If you're looking for some cool covers and don't feel like spending the same as you would on a good putter, Craftsman is the answer.  Their stock options are deep and their custom options are virtually limitless.  The Craftsman team is very flexible and easy to work with to get you exactly what you want. My Verdict: I love these headcovers and the future possibilities.  After receiving this set, from Swing Juice HQ, I already have my own ideas and want to get building more sets as soon as I can. As always, if you have any questions, leave a comment below and I'll get back to you. [carousel]
---