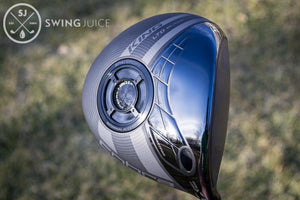 Review: Cobra King LTD Driver
Cobra King LTD Driver
It's a rare occurrence in the golf industry to see a driver model survive more than a year for a product life cycle. Apparently the Cobra King LTD was so successful that all Cobra wanted to do was give it a fresh paint job and keep it around for a second year. Can't say I disagree with them.
The Highlights:
Zero Center of Gravity (CG) by moving the CG to the neutral axis line
16 gram Spaceport in sole to control CG - you can see inside the head!
Forged E9 Face with Speed Channel
TeXtreme carbon fiber crown
Adjustable hosel with MyFly 8 adapter
COBRA CONNECT Powered by Arccos, allows golfer to automatically track drives
Find the Cobra King LTD HERE and the black out version HERE.
The Vibe:
I'll dive into the playability of the Cobra King LTD later, because it's killer, but one may argue that the feeling of hitting this driver is what sets it apart. The LTD feels super smooth and fast instead of solid or springy like a lot of other modern drivers (not to say that's bad, they're just different feels). I previously reviewed the Cobra King F7+ (HERE) and said a well-hit shot had a "crack" tone to it, and I would say the LTD has a similar tone that's a little softer and less metallic. Obviously the King LTD looks amazing and super unique. I'm a massive fan of the original black and orange Rickie influenced model, but the gear dork in me is a sucker for the matte murdered out black version that's now available. Either way, you can't go wrong. The shape is nice and both versions look good behind the ball.
On Course:
Two drivers saw time in my bag last year and the King LTD was one of them. I tried them all. Trust me, I tried them, but the King LTD consistently stood up the best with the most control, the most consistency, and long distances. This performance paired with the crazy good feel was pretty much a no-brainer for me. That's not saying other drivers didn't do other things better, but not much else was anywhere near the consistent total package for me like the King LTD. I'm keeping an open mind to all the new models in 2017 as possibilities, but believe me when I say the King LTD will still be a major contender for my bag.
The Verdict:
I just had another glance at Cobra's website to have another look at what they had to say about the King LTD driver. The beauty of this driver is that they had enough fancy stuff to talk about, but it's simplicity is the best part. There aren't a million bells and whistles, extra hardware, and crazy gadgets you need to dial to get the club set for you. Set the adapter to the right loft for you and off you go. It's basic, it's straightforward, and it's great.
The Aftershow:
The Aftershow
is where we talk about aspects of the equipment that's of interest but didn't necessarily make the review. Like the Cobra King F7+ driver review, the newer King LTD Black driver also comes with Cobra Connect powered by Arccos. Understanding your game is crucial to being a better golfer and one of the biggest areas that separates good players from bad players. Having an analytics system built into your golf club will only help you get better by understanding your own game, and the Arccos platform is both accurate and visually appealing. If anything else, it's just fun. Just do golfers everywhere a favor, don't get distracted by it on the course and keep pace!
---