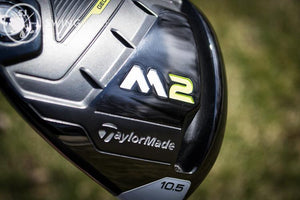 Review: 2017 TaylorMade M2 Driver
2017 TaylorMade M2 Driver
TaylorMade has had zero problem whatsoever creating buzz since the introduction of the M series drivers in 2016. This buzz was everything TaylorMade could ask for along with winning Major Championships with the original M1 and an Olympic Gold Medal in Rio with the original M2. TaylorMade made two very different drivers to appeal to their stable of star players as well as the buying public looking to hit the same gear as their heroes. In 2017 TaylorMade took the successful M2 noted for its simplicity and solid feel and made it even better. Maybe the most notable achievement of the latest M2 driver is its recent victory at The Masters in the hands of Sergio Garcia as he finally broke through and into the Major Champions club.
The Highlights:
The 2017 M2 has a new Speed Pocket that is three times more flexible than it was in the original M2
Lower density 9-1-1 Titanium body, 6-layer carbon composite crown
Increase in overall inertia of the M2 driver without sacrificing low CG
4¡ aluminum Loft Sleeve features 12 adjustable settings
Two stock shaft choices: Fujikura Pro XLR8 56, Fujikura Reax 45
Won the 2017 Masters in Sergio Garcia's bag!
Find the 2017 TaylorMade M2 driver
HERE
.
The Vibe:
I‰Ûªm not sure it gets much cooler than the TaylorMade M drivers. The black carbon fiber crown set against the white topline is so smooth and looks great sitting behind the ball. Much to TaylorMade‰Ûªs credit too, that color scheme is impossible to miss on the TV broadcasts. It just jumps out at you. Watching players like Sergio and Justin Rose smoke the M2 around Augusta only adds to the cool factor and makes you think there's a little something extra special about that club you need to look into. The M2 driver has a nice shape to it and looks good sitting behind the ball. It's not too bulbous and round, and it isn't too compact and tear-drop shaped either. Put it this way, if Tiger doesn't mind looking down at it, it can't be too extreme in any direction. It looks like a nice standard 460cc driver head. A well-struck drive feels very strong (as in solid through the face) and there's a hard pop at launch.
On Course:
TaylorMade's product description on their website lists a lot of impressive technical details that explain why the M2 driver is great this year. Honestly, it's all a bit over my head but I agree with them 100% that the 2017 M2 driver is a canon. If I may use a somewhat crude technical term here, I was 'hitting the living piss' out of the ball with this driver. My ball flight was an authoritative mid trajectory with plenty of carry to take on some tough obstacles on the course. I wasn't getting Sergio's Augusta National fairway rollout but my best drives were getting 30-35 yards of roll which is more than enough for me to feel good about my results. That combination of carry and roll made 300+ yard drives consistently achievable and a dependable distance off the tee.
The Verdict:
There really isn't a whole to say about the TaylorMade M2 driver other than it's a good, strong, sleek looking driver. I think there will be players that are better suited for the M1 because of its adjustability, but if you are able to make consistently good swings with the right shaft in it then the M2 will be great. Also, if you like a firmer feeling face on your driver, the M2 is the one to go after. The Verdict: A strong driver capable of hitting bombs when put in the right hands.
The Aftershow:
The Aftershow
is where we talk about aspects of the equipment that's of interest but didn't necessarily make the review. It's interesting to think about how different everyone's golf equipment preferences are. Even at the professional level, there's clearly no right answer. Why do Jason Day and Dustin Johnson play the M1 driver and Sergio, Rose, and Tiger Woods decide to play the M2 driver? Clearly there's a good reason for the decisions they're making in their equipment. These players, with all of the access they have to equipment, obviously tested both and settled on their respective drivers of choice. I think it's important to remember this. Even the pros make sure they're making the right choices in equipment. Just because Sergio can win the Masters with the M2 doesn't mean I'm necessarily going to be tearing up the fairways with it. If I had a dollar for every time I expected to hit a new driver well and it just didn't work out for me... The moral of this story is to make sure you properly test your equipment to make sure you're playing the right equipment to be successful on the golf course. [carousel]
---