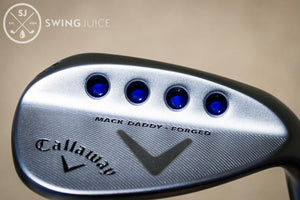 Regular Guy Reviews: Callaway Mack Daddy Forged Wedge
Our Regular Guy Reviews the Callaway Mack Daddy Forged Wedge
Every "regular guy" like myself out there wishes they could hit their wedges like the pros. We love seeing the "two-hop stop" pitch shots, and the approaches from 100-yards that suck back ten feet. With that said, a lot of us face the same types of shots the pros do on a weekly basis: short sided with no green to work with, a dreaded flop over a bunker, or that 40 yard wedge that we need to stick close. Based on the versatility required for both Tour players and weekend warriors alike, Roger Cleveland created a forged wedge for any shot you need to pull out of your bag. Find the Callaway Mack Daddy Forged Wedges HERE. Read Joe Pro's review here.
The Vibe:
Since I'm an everyday hack, let's start with what's really most important: looks. All joking aside, I can appreciate a nice looking club, and Callaway nails it with the Mack Daddy Forged. I'm partial to the Black Slate, but both finishes look great, and the head shape looks sleek. I'm a fan of the raw characteristics and rust that will come with the Black Slate finish, but if you want something more durable, the Chrome will be the wedge for you. The paint-filled Tour Bombs on the back are a nice touch, but also allow for some cool DIY customization if that's something you're into. In terms of feel, Callaway accomplished exactly what they wanted to in a forged wedge: a great feeling club. Unlike a more forgiving wedge (remember, this is more of a player's wedge), you are going to feel mishits a bit more, but well struck shots feel like butter on the hands.

On Course:
While I don't have the greatest short game around, it's definitely been something that I've worked to improve on this year. Personally, I feel my short game is a big weakness, and it's a place where many of us "average joe's" can improve on, leading to lower scores. With that, I found that I could hit every shot presented to me with a fair bit of ease. I could easily lift the ball over a bunker, or hit a low bump and run if necessary. One thing that this won't fix is that Tour level spin that we all desire. If you can't already zip the ball back on approaches, or get that "two-hop stop" on chips, this club isn't going to work miracles. It definitely has the spin I expect from other high quality wedges, but isn't going to make you pull our Tour shots without the ability to normally do so.

The Verdict:
Overall, the feel of the Mack Daddy Forged was great. I was able to hit the shots I needed to, and the looks/design of the club are great. The downside to this wedge, in regards to us "regular guys," are lack of grind options. With only one grind available, it limits the options that other companies provide to help out the hacks. Most weekend golfers have an inconsistent wedge game, and can usually benefit from higher bounce options, while others hit everything thin and might need something lower. In this case, there's only one size to fit all, and while it may be ideal for better players, I like to have options. My Verdict: The Mack Daddy Forged is a beautiful wedge with great feel and performance. Although it's a club geared towards better players, it's still worth checking out, as it could still be a good fit for your short game. [carousel]
---