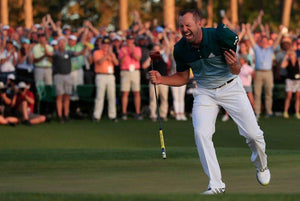 Quick Hits: 2017 Masters Week
Little tournament happened last week. Called the Masters, ever heard of it? Here are the Quick Hits.
Sergio FINALLY Wins His First Major at The Masters
If you weren't paying attention this weekend, I'm disappointed in you. Sergio Garcia won a hard-fought battle against Justin Rose to win the 2017 Masters. To say this was a long time coming is quite the understatement. Congrats to Sergio, we're all super pumped for him.
Stay tuned, Swing Juice's Joe Pro will have a review of Sergio's winning M2 driver coming soon.
Dustin Fell Down Some Stairs...and Withdrew
Talk about a dramatic turn of events. Dustin was the heavy favorite heading into the tournament and pulled out at the first tee on Thursday because of hurting his back falling down a small flight of stairs. Needless to say, the rumor mill is in full gear. If you're a Pardon My Take from Barstool Sports fan, take a listen to Big Cat and PFT's humorous speculations from Friday's show (4/7).
Augusta Weather Cray Cray for Start of Tournament
If you watched the first two days of the tournament, you saw some pretty high scores, except for Charley Hoffman who must have been cheating because he killed it. Augusta is a hard course as it is, but add in the crazy weather and it got tough
real
quick.
Swing Juice at the Major Rager
  Swing Juice took Augusta by Storm last week as a sponsor of
The Major Rager
Concertand in addition to doing an FB LIVE Broadcast Powered by
Brobible
. It was an Epic week, check out some of the highlights
HERE
. More details to come about our Week in Augusta.  
---