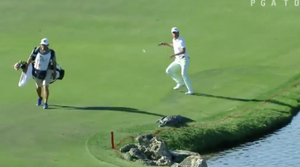 Quick Hits: 2017 Arnold Palmer Invitational
2017 is the first year of the Arnold Palmer Invitational since Arnie's passing. As such, this year's event was much more than a golf tournament, it was a celebration of Arnie's life. This week's Quick Hits will cover some of the highlights and special moments from last week's event.
Callaway Tours Arnold Palmer's Office
Though frequently covered, Arnold Palmer's offices always seem to have something new to show the world. Callaway got a tour through the office at Bay Hill from Cori Britt and we got to see some crazy things. Maybe coolest of all is the book of handwritten notes Palmer made about Augusta. Click here to see more.
Marc Leishman Wins the Whole Darn Thing
Leishman had a good tournament and made a good run on Sunday to seal his first win in five years. This had to be an exciting win for a variety of reasons, but maybe none more than reaching this level of successful since almost losing his wife two years ago. The new red winner's cardigan replicating Palmer's preferred classic look is a close second. The punched card to Augusta is third. For more on Leishman and his journey, Golf Digest covers it here.
Rickie Fowler Rocks Custom Palmer Pumas
Rickie Fowler was turning heads wearing some crazy custom Puma high tops around Bay Hill to honor Arnold Palmer. Turns out only two pairs were made, one for Rick to wear and another to be auctioned off to raise money for the Arnie's Army Charitable Foundation. As for Rickie's pair:
The right shoe will remain on property at Bay Hill Club & Lodge, where Fowler hopes it will join another special memento he had previously left. The only hat in Palmer‰Ûªs well-preserved upstairs office is one Fowler signed for him after the two had lunch together last year. As for the left shoe, Fowler hopes to keep that one and add it to the growing stockpile of Palmer memorabilia he has at his house. Thus far, it‰Ûªs a collection that includes magazine covers commemorating Palmer‰Ûªs death, the program from his memorial service in September and the hat Fowler wore during the final round of the Ryder Cup, adorned with a Palmer umbrella pin.
Grillo Chucks His Club
OC Tom talked about club launching a bit ago with Justin Thomas and Rory McIlroy, but this week Emiliano Grillo sent a club into the lake after having a slight disaster of a hole. After hitting two shots into the water, which resulted in a quad on the hole, Grillo tossed his club into the lake to hang out with the gators. As a regular every-man golfer, I will always support the club throw, especially with the IDGAF attitude that you don't even want it back from its watery grave. Check out this article over at USA Today for videos.
Speaking of Gators... Gators Causing Trouble at the API
Ok, maybe not causing a ton of trouble, but there were multiple fun alligator stories from the week. The first came from relatively unknown (but coming up the ranks) Cody Gribble when he came across a gator on the side of a fairway and he casually helped it back into the water. Yeah, no big deal, bruh.
THEN everyone's favorite golf dude, Smylie Kaufman, ran into what was possibly the same exact gator in the same exact place (is that accurate?). The best is he was so focused on looking for his ball that he didn't even see it until the last second. Smylie didn't handle the moment quite as calmly as Gribble and Kaufman's Twitter response was priceless. "Yeah, tournament down in Florida. I hooked my ball in the rough down by the lake. Dang alligator just popped up and bit my hand off." Here's the video of his encounter if you so desire.
---