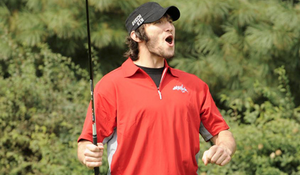 Ovi has had a nose for The Cup for awhile
Ovi has a Nose for The Cup! Alex Ovechkin can Finally hoist The Stanley Cup trophy, but it took him far less time to drain one at the bottom of the Cup.  Golf.com retold the insane story (actually it was the first I've heard it), about the young Caps Rookie from 2006 during a Washington Capitals Charity Golf tourney.  
In a Historic golf moment, The Great 8 stepped up to one of the Par 3's having NEVER PLAYED GOLF before and casually made a Hole in One. FIRST TIME PLAYING (notice the ALL CAPS). Crazy. Maybe we should be Surprised but actually not Surprised at all, some guys just have it.  Don't believe me, video evidence below.  
---