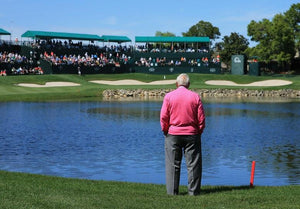 New Hosts at Arnold Palmer Invitational
Over the years, people really took the Arnold Palmer Invitational very seriously. (I'm not saying they shouldn't have and that they don't still for the record.) I always got a kick out of the public witch hunts for players that "disrespected Mr. Palmer" because they turned their invitation for various reasons. I just can't wrap my head around that. You're a very successful golfer that has worked hard to get where you're at, and now you apparently owe some explanation to John Q Public Nobody for how insulted they apparently are. Relax, it's just a game and Arnie wasn't going to lose sleep over it. Wow, "but I digress..." Talk about getting off topic. The point of this post was to mention that the tournament has named the replacement as host. How do you replace shoes as big as Palmer's? With FIVE different people.
On Wednesday, the Arnold Palmer Invitational announced that five individuals will share the responsibilities left by Palmer. Those five are U.S. Open champ Graeme McDowell, World Golf Hall of Famers Annika Sorenstam and Curtis Strange, PGA Tour veteran Peter Jacobsen and former Secretary of Homeland Security Tom Ridge.
That's a lot of fire power. I would imagine Annika and Strange could be recurring hosts, but I will be interested to see if it's a different crowd every year. For more, check out the article from Golf Digest
here
.
---