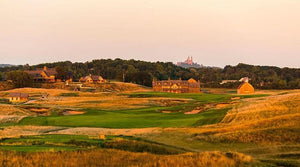 Kevin Na Complains About The Fescue At Erin Hills, Rory Thinks It's a Non-Issue
Last year's US Open at Oakmont drew a ton of videos on social media to show exactly how deep and thick the rough was for the players that week. This year, Kevin Na took to the realms of social media to voice his displeasure with the difficulty of the fescue shaping the holes at Erin Hills. Check out Kevin's Instagram video here:  
To be fair, the fescue is definitely thick, but the USGA hinted all along that it would mow the fescue before the tournament, and did so on Tuesday due to a good amount of rain Monday night. Enter Rory McIlroy. In McIlroy's presser today, he stated that he felt the fescue shouldn't be an issue. Here's what the Northern Irishman had to say:
  I have to agree with Rory here: it's the freakin' US Open, it's supposed to be tough. I can't personally attest to how wide the fairways really are, but if they're that big, these guys should be able to hit them. It seems there should be bigger things to worry about for the pros out there, but what do I know?
---