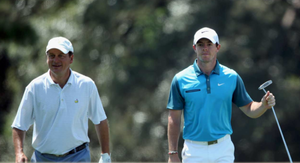 Jeff Knox tha GOD!
Having a Jeff Knox story already floating around means The March to the first week in Augusta GA is officially ON! You all know by now the Legend of Jeff Knox at Augusta National. (If you don't catch up on him
Here
also 
Here
).  Well it looks like the Legend continues to grow.  Rory McIlroy paid a little visit to ANGC recently to prep for golf's greatest tournament and played a friendly round (or so he thought) with Mr. Knox.  And he LOST!  
Check out the Full Story here.
 Not sure if this means anything in terms of Rory's chances at Augusta (it doesn't) in a few weeks but that has to sting a little.  Or maybe you just simply have to chalk it up as Legends do Legendary things.  If you take a swing at the King you best not miss.  Another reason The Masters can't get here soon enough (Tiger, Phil and Jordan Oh My!)
Speaking of Jeff Knox, he's already been Immortalized by SJ.
---