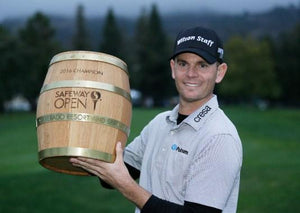 Interview with PGA Tour Star Brendan Steele
Nice guys finish last...just don't tell that to Brendan Steele.  Brendan is the owner of three PGA tour wins in addition to seven other professional wins.  The Safeway open is considering renaming the tournament after him.  He is a man with great taste in music and great appreciation for his family.  AngryGolfHulk was able to steal some time in the off-season with Brendan and picked his brain on music, acting and life on tour.  Sit down, grab yourself something to drink and read on about one of the nicest/coolest guys on tour.  
ANGRYGOLFHULK-Can you explain your intro to golf?  Growing up in a mountain town without a golf course must have been a bit tough en route to becoming a pro golfer.
Brendan Steele-There is no golf course in the town I grew up in so I played a lot of baseball and soccer until I was 13. My older half brother was playing a lot of golf at the time and I always wanted to do whatever he was doing so I started to play. My dad put a net and artificial putting green in our backyard and that's where I really learned how to play. 
AGH-How does one even get exposed to golf if there's no course or range?
BS-My dad always liked golf but never really played himself. I mostly just played a round or Two on vacation until I was about 13. My parents sacrificed a lot of time getting me all around Southern California to play. It seemed normal at the time, but looking back on it, what they did was very special. 
AGH-How was your transition from jr golf to collegiate golf?  What was the most difficult part?
BS-It went pretty smoothly for me. I think that mostly had to do with playing for a smaller D1 school (UC Riverside) and the group of guys that I got to practice and travel with. 
AGH-What was your first event ever as a pro?  Can you remember your first pro round and if so can you explain a little of the feelings associated with it?
BS-It was a Spanos Tour (A California tour that A.G Spanos Company sponsored for three years) event at Stevenson Ranch in California. I don't remember a lot about the round but I think there was a mix of excitement and nerves.
AGH-Have you ever used your college degree?  Do you plan on it after tour life is over?  Will you play the senior tour?
BS-My degree is in business administration and while it would seem like I don't use it at all, I've effectively been running a small business for the last 13 years so I'd say I've use it somewhat. I'm trying to set up a few opportunities for myself now that would pay off after I'm done on the PGA tour so I may use it more then. Senior Tour is a long way off, but I'm not sure where I'll be in my life or what will be going on with my family so I don't really know what I would do. 
AGH-You've mentioned in the past you play alot of rounds with Phil in CA.  How much does he still owe you and will be come out in the black against Tiger in Vegas?
BS-Phil and I always have a great time playing matches. We use them as tune ups for big events. I know most people think Tiger is going to win "The Match" but I'm team Phil all the way.  
AGH-What is the first big item you splurged on as a pro?
BS-After I won Valero in 2011 I bought myself a Maserati and a Breitling. The car might have been over the top, but it was awesome to have a trophy on wheels if you will. 
AGH-What are the best and worst aspects of playing the PGA tour?
BS-I love the group of friends I have on tour. Our wives get along great and our kids will be raised together.  The worst parts are travel, length of the schedule and missing a lot of your life at home. 
AGH-What is your favorite and least favorite course in the U.S?
BS- My favorite would Shady Canyon and my least favorite would be Harbour Town.
AGH-You were back to back defending champion at the Safeway open and were high up on the leaderboard going into the weekend this year.  When you walk into the safeway open do guys get pissed because they know they are playing for second place?
BS-I was getting a hard time about that this year, but this year since I didn't have a great week, I think guys will keep signing up.
AGH- Your uncle was an actor and you appeared on an T.V. episode of Bones.  Are you a members of the actors guild after your role on bones?
BS
-I actually am and I get residual checks from time to time even though my lines got cut.
AGH-Is acting something that interests you once golf is done?
BS-Not at all. I'm terrible. 
AGH-Is there anything you collect?
BS- used to collect a lot of sports memorabilia as a kid. A lot of it is still really important to me but I don't really add anything to it these days. 
AGH-What are some of your avorite things to do outside of golf on off weeks or during the off season?
BS-I'm a huge sports and music fan. I love going to concerts and games
.
AGH-What is the best family vacation you've ever been on?
BS-My wife and I went to Amangiri in Utah for our 5th wedding anniversary and it blew me away.
AGH-Is there any way to put the masters experience into words?
BS-So much is made about the Masters and all I can say is that with all the hype,  it's actually way better than you can imagine.
AGH-What have been some of the best and worst fan interactions you've had while out on tour?
BS-I can't even count how many great interactions I've had with fans.  As far as worst goes...lots of negativity on social media. Not much jumps out on the course although Phoenix (Wast Management Phoenix Open)can get a little rough.
AGH-Do you ever tease your wife about having the same name as 50 shades of gray character?
BS-She gets that a lot. People think it's an alias.
AGH-Where can you find the best food on tour?
BS-The CJ Cup in South Korea
AGH-Are the milkshakes really THAT good at the memorial?
BS-They are awesome. I always go with the buckeye. 
AGH-Who are some of your favorite guys on tour to be paired up with?
BS-Charles Howell and Adam Scott
AGH-What are you currently listening to?
BS-I listen to a lot of the same stuff I did in college. Lots of Linkin Park, Tool, Avenged Sevenfold, Nine Inch Nails. Newer bands I really like are Of Mice and Men and Bring Me the Horizon. 
(Editors note: This man has great taste in music.  Go check out some of his pics)
AGH- Tough question but what are your top 3 albums of all time?
BS-Linkin Park-Hybrid Theory
Tool-Aenema
Avenged Sevenfold-Nightmare
AGH-How did the relationship with Wilson golf materialize?
BS-In 2014 I went on a search for the best iron I could find. I tried just about everything and the Wilson FG100 blades were by far the best. Luckily for me they were willing to bring me on board. 
AGH-Worst shot you've ever hit?
BS-I shanked one over the grandstands in Mexico last year. How's that?!
AGH-Best shot you've ever hit?
BS-Under the circumstances the 7 foot par putt to win Valero in 2011
AGH-Can golf still be fun for tour pro's?
BS-It's very rarely fun for me these days. It's become a job for sure. I can still have a good time going out and playing with my friends at home, but I'm still critiquing everything I'm doing so that takes some of the fun out of it. 
AGH-What is the best advice you could give to a jr player?
BS-Find a way to get a club in your hand. You don't have to grow up at a country club or get lessons every week to be successful and most importantly enjoy the game and the challenges it brings. I lose sight of that a lot. 
AGH-Why can't we get the tour to sanction a fall series even where the guys play with old equipment on a shorter course?  Would you be behind that?
BS-It wouldn't be my favorite thing to do. 
AGH-What do you do with all your old clubs?
BS-I give them to friends, I've donated them to local college teams, young pros and junior golf programs. 
AGH-Whats the biggest topic of conversation on the course between players?  Do you mind if people try to talk to you while you're playing in-between shots?
BS-I talk a lot so I never mind some chatter. I know I annoy some of the guys I play with.  I talk too much
AGH-How different are the tour players clubs from the clubs sold in stores under the same name?
BS-Not very different at all. The major difference is that we have the ability to get fit all the time and have great reps to figure things out for us.
AGH-Are you a club tinkerer?
BS-Yes definitely. I mess around a lot with 3 woods and putters. Not as much with everything else. 
AGH-How good is your mini golf game?
BS-Haven't played much for awhile so I'd say not great. 
AGH-What are your favorite instagram and twitter follow?
BS-Chris Mayson on instagram and Angry Golf Hulk on Twitter (Editors note: HULK NOT PAY MAN OF STEELE TO SAY THIS)
AGH-What is your exercise routine like?
BS-It varies a lot unfortunately. During the off-season my trainer works me pretty hard but it's difficult for me to maintain that intensity while I'm on the road by myself.
AGH-If you had one meal left, what would it be and what is your favorite dessert?
BS-Pizza and Sidecar Donuts
AGH-Do you have any pets?
BS-We don't currently but we will get a dog when our daughter gets older.
AGH-The best grill room or 19th hole...
BS-The most fun is definitely Shady Canyon. Incredible staff, fun membership, lots of games, cigars, wine and stories.
Hope you enjoyed our sit down with Brendan Steele.  Make sure to follow him if you're ever at a PGA Tour event.
SwingJuice wants to thank Brendan for the time he gave to us and wish him a relaxing off season and a prosperous 2019 Season.
AngryGolfHulk is currently running in front of buses.  He's not that smart
---