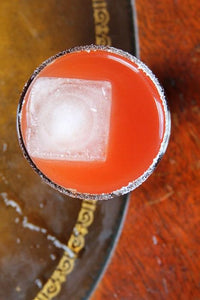 Have a Drink Friday - The Kentucky Devil
Came across this little beauty on my walk to the train after work the other day. Sign me up for a couple of these
Kentucky Devils
this weekend (might skip the gold flakes).
Ingredients
1 1‰2 tsp. sugar
3 oz. seedless watermelon, cut into 1" cubes (about 1‰2 cup)
2 oz. bourbon
1‰2 oz. fresh lemon juice
1 tsp. adobo sauce
Edible gold flakes, as garnish (optional)
Instructions
Place 1‰2 tsp. sugar on a small plate; wet rim of cocktail glass and press it into sugar to coat rim. Combine watermelon, bourbon, lemon juice, adobo sauce, and remaining sugar in a cocktail shaker filled with ice. Shake until well chilled. Strain into the rimmed cocktail glass filled with ice. Garnish with gold flakes, if you like.
---