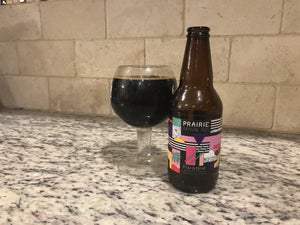 Have a Drink Friday - Prairie Artisan Ales Paradise
It's been awhile since we've had a Have a Drink Friday around here so let's get back in the swing of things with a nice stout for the winter.  One of my favorite beers throughout stout season has been the Prairie Artisan Ales Paradise.  It's a heavy 13% Imperial Stout that pours black as the night and is brewed with vanilla and toasted coconut.  When Paradise was freshly brewed, it was delicious with good hints of chocolate and vanilla.  As time has passed, the vanilla has toned down and Paradise has taken on much more of a coffee profile.  Honestly, I can't say at any point that I was really getting a coconut vibe out of it which was sort of disappointing, but that good vanilla made up for it in the beginning.
At this point in the season, you can probably still pick some up and it will be ok, but if you want Paradise at its best, put it on the radar for next time it gets freshly brewed.
---