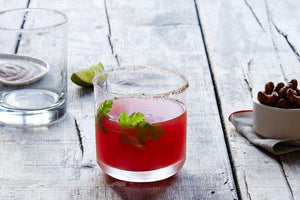 Have a Drink Friday - Hello Summer Cocktail
It's just that time of year. Warm weather, sitting outside, and sipping sweet summer cocktails. This week we bring you the "Hello Summer" cocktail. Recipe courtesy of
Food52.com
. Makes 1
5 sprigs cilantro
1/2 ounce lime juice
2 ounces watermelon juice
1 1/2 ounces tequila (100% agave)
1 ounce Lillet Blanc
1/4 ounce agave nectar
dashes salt
Salt, freshly ground black pepper, and chili powder for the rims
Additional cilantro for garnish
For the watermelon juice, use a seedless watermelon or remove any seeds before processing. Simply pur̩e watermelon chunks in a food processor or blender until smooth. The juice will be textured and will naturally separate. I prefer the texture, but you can strain out the solids if desired. Make a quart or two of watermelon juice to keep in the refrigerator for agua frescas. Use the juice within a few days or freeze for future drinks.
Find your favorite rocks glass or any kind of small tumbler. Wet the rim of your glass with water (or lime juice) and then salt the rim by dipping it into a small plate of salt sprinkled with freshly ground black pepper and chili powder. Fill the glass with ice and set aside.
Place cilantro sprigs and lime juice in a cocktail shaker. Muddle the cilantro to release the oils then add watermelon juice, tequila, Lillet Blanc, agave nectar, and a dash of salt. Add a scoop of ice, then shake the cocktail vigorously for at least a minute. Strain into your prepared glass and garnish with a sprig of cilantro.
You can add a dash of salt to balance out the cocktail and spice up the salted rim with a little more chili powder and black pepper.
---