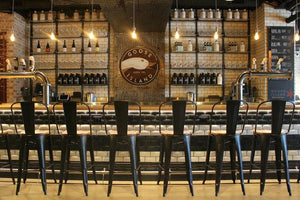 Have a Drink Friday - Goose Island Taproom
Last Friday I wrote about one of Chicago's most famous beers,
Goose Island Bourbon County Brand Stout
. I've had a couple of bottles since then, but nothing beats a little BCBS from the tap. Goose Island has a
taproom
in the Fulton Market area of Chicago and this is where a lot of Goose Island's specialty brews are actually produced. What makes it even more appealing is that they typically always have a handful of unique beers on tap that you're only going to find at the Taproom as opposed to their Brewpub or in stores. In order to take advantage of it being BCBS season, I went to the Goose Island Taproom last night with a friend of mine where we enjoyed Bourbon County
Proprietor's
(Prop) and split a bottle of
2015 Rare
while we tried to catch up on our lives but spent most of the time distracted by our beverages. One of the advantages of enjoying a beverage at the Taproom is that the bartenders are more beer scientist than anything and give you a whole different perspective of the beer you're drinking. Another interesting note is that right around 6:00 PM, a wave of people just appeared out of nowhere, started ordering beers, and threw their ID cards in a bucket. These were actually Goose Island employees that just got off their shift and were hanging out enjoying the fruits of their labor, and they were happy to talk to anyone about their jobs, the beers, and the general beer industry with a smile on their face. If you're ever in the Chicago area on a Thursday through Sunday, the Goose Taproom is certainly worth the stop. If you're heading to a Blackhawks or Bulls game, it's literally just down the street.
---