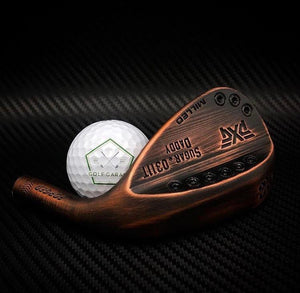 The Golf Garage Will Get You Through Hump Day!
Wednesday's drag.  You're half way through the week but you still have half the week to go.  What's a golfer to do?  SwingJuice has the answer golf fans. AngryGolfHulk and SwingJuice sat down with club customization guru The Golf Garage to learn a little bit about his company and what he provides for golfers.  Xzibit used to pimp your ride and the Golf Garage is here to pimp your sticks.
AngryGolfHulk-Can you explain the beginnings of your company?
The Golf Garage-The Golf Garage started with me tinkering with my own equipment and friends and families equipment. It then grew locally and now we've had clients just about everywhere!
AGH-How did you get started in golf?
TGG-I started golfing when I was 13. Something to do with my dad! Then I decided I'd try out for my schools team, made the team and worked my way up to 1st man on the team.
AGH-How many years have you been customizing clubs and when did you realize it could become a full time job?
TGG-The Golf Garage is a business I would call a side hustle. I still work a full time job and coach. I work on clubs on evenings and weekends because I enjoy it. I've officially been called "The Golf Garage" since 2016. But have been working on equipment for years.
AGH-What services do you offer to your clients?
TGG-We mainly focus on the visual customization aspect of clubs. Our focus is putters, but we also branch into wedges and irons. We offer new custom finishes, paint fill, Remilling, sight line or dot customization.  We also do complete restorations from the putter you found at a garage sale.
AGH-How important is social media to you?
TGG-Social media is very important. The reach across not only the US but the globe has been paramount!
AGH-Could you be where you are now say10 years ago, when social media was not as prevalent as it is today?
TGG-No
AGH-How many rounds on average do you play a year?
TGG-Being from Pennsylvania we have an abbreviated golf season. From March to October I probably play around 30+ rounds of golf. Editors note-Hulk found out that he and the The Golf Garage are not far from one another.  Expect a golfing report when the weather changes and possible Hulk pimped clubs.
AGH-What is your opinion on golf carts compared to walking? TGG-I prefer Get out and walk! I have no issue with carts though.
AGH-What is your best round?
TGG-67
AGH-Do you belong to a golf club or do you prefer to play random courses?
TGG-I play anywhere I can. I do not belong to a club.
AGH-Do you have a set of fully pimped out customized clubs and if so what's in the bag?
TGG-Driver: Taylormade M4, 6.5* 3 Wood: Taylormade RBZ Driving Iron: p790  Irons: Golf Garage PXG custom with Damascus pattern  Wedges: Golf Garage Custom Cleveland RTX4 USA wedges  Putter: Custom Cody James Golf Garage collaboration with Timascus accents.
AGH-What has been the coolest custom piece you've created so far?
TGG-That's hard to say. I'm not sure I could pick just one. There are countless pieces!
AGH-What is the most interesting golf story you have to tell?
TGG-Sadly I've hit a bird mid flight...
AGH-Are there any special pieces/ideas that you have coming up on the horizon?
TGG-We have a few projects in the works. You'll have to stay tuned and give @the_golf_garage a follow on Instagram to find out ?
Random six 3 favorite musical groups or artists? Stevie Ray Vaughan, Disturbed, Eminem Favorite social media follow? Tyson Lamb If you could live anywhere in the world where would it be? Outerbanks, NC You are in charge of the USGA/Royal and Ancient.  What is the first change you make? Allow Shorts Anything you would tell your 18-20 year old self? Never give up 
Check out some of the @the_golf_garage customization work below.  You can reach him on instagram, his website, or on facebook.  Let Kyle know SwingJuice sent you.
Drop a comment below on your favorite customization or show us a pic of some pimped clubs you're rocking.  Hit us up on twitter at @swingjuice @swingjuice dan @angrygolfhulk or on Instagram at @swingjuice @danpatascher.  Be sure to share some pics in SwingJuiceGear using #Wearyourswingjuice You probably can't break par on your own but with the help of SwingJuice and The Golf Garage you'll be breaking par in no time.
Keep that SwingJuice Flowing.   HULK is currently trying to customize his clubs with paint by numbers.
---