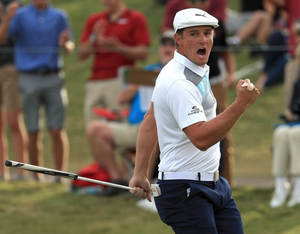 Is Fall Golf Worth watching?
Fall means the World Series, College Football and the NFL.  Fall is when the NBA and the NHL start their long grind into the winter and beyond. Fall is the start of the holiday season: time for family, friends and GOLF! Fall Golf Baby! Please don't tell me you thought the PGA Tour season was over after the Tour Championship. 
Well…TECHNICALLY it is (the season starts over again, two weeks later, in the same calendar year) but none of the insane tour wraparound logistics matter.  Fall golf is good, like really good. You probably hear the same complaints about the fall golf series as I do. People say, "THERE ARE NO MAJORS!" This is true, however the tour stops off at Pro golfer hot spots like Sea Island, GA and Albany in the Bahamas.
People say "I DON'T KNOW ANYONE PLAYING!"  Come on…Every single top player on tour is playing in at least one event during the fall season.  A lot of guys use the fall to test new gear, vacation somewhere their family wants to go to or fulfill minimum number of tournament requirements (looking directly at you Mr. Spieth).
People say "IT'S NOT REAL GOLF, IT'S A MONEY GRAB!"   You're right, it is.  If someone gave me guaranteed money to travel across the globe then damn right, I'm taking it, and so would you.  These guys are independent contractors who feed and support a lot of people based off their performance.  A quick 50k for a last place finish doesn't sound so bad. While the venues may not be renown for their course architecture (Sheshan International GC is a horrible course covered in smog 22 hours a day) the actual golf is terrific. 
Already in the fall series you had Cam Champ win as a rookie and the number one player in the world changed hands as many times as Tiger changes…nevermind.  Xander Schauffele won a WGC event when everyone in the states was sleeping, Koepka backed up his player of the year award by wining again this year (my bad, all his wins were last year, even though they were this year) and the Shriners Hospital for Children Open had DeChambeau drop a 51 foot eagle (with flag stick in of course) to win for the fifth time in the last eleven months.  
The fall series has already provided great theater and a welcome fix for us die-hards.  Watch a tournament or two and leave a comment down below.
Hit us up on twitter at   @swingjuice dan @angrygolfhulk or on Instagram at @swingjuice @danpatascher.  Keep that Swing Juice flowing.     @ANGRYGOLFHULK is currently still looking for his ball in the 18th fairway...he doesn't believe in leaf rules.   Legends of the Fall indeed  
---